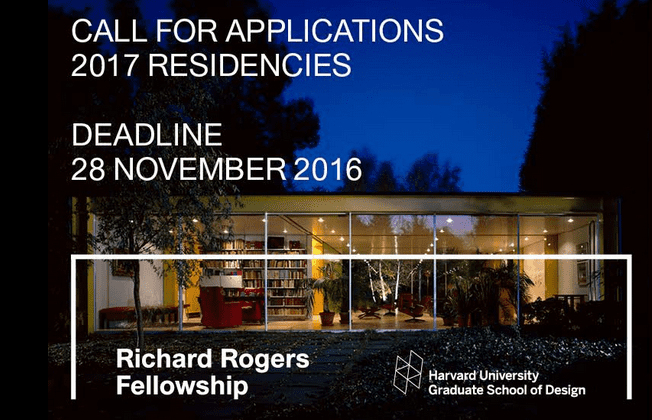 Application Deadline: 8 NOVEMBER 2016 MIDNIGHT EASTERN STANDARD TIME.
HARVARD GRADUATE SCHOOL OF DESIGN (GSD) IS PLEASED TO ANNOUNCE A RESEARCH RESIDENCY AT THE WIMBLEDON HOUSE, A MODERN MASTERPIECE DESIGNED BY WORLD-RENOWNED BRITISH ARCHITECT RICHARD ROGERS.
Open to accomplished professionals and scholars working in any field related to the built environment, the Richard Rogers Fellowship is dedicated to advancing research on a wide range of issues—social, economic, technological, political, environmental—that are critical to shaping the contemporary city.
The Fellowship is inspired by Lord Rogers' commitment to cross-disciplinary investigation and social engagement, evident across his prolific output as an architect, urbanist, author, and activist. Harvard GSD is currently accepting applications from accomplished architects, landscape architects, planners, historians, economists, and other specialists whose research will be enhanced by access to London's extraordinary libraries, archives, practices, institutions, and other resources. Fellowship winners will be awarded a three-month residency at the Wimbledon House, travel expenses to London, and a cash prize of $10,000 USD.
Eligibility Requirements:
Applicants must have completed a Bachelor's degree, though advanced degrees are preferred.
There is no age restriction but preference will be given to applicants with substantial professional or academic credentials.
The Fellowship is open to applicants residing anywhere in the world.
Applicants must demonstrate professional or research experience in a field related to the built environment.
Winners are expected to secure their own travel and visitor's documents; UK requirements differ depending on the country of origin and length of stay.
Residency:
Spring (February 15 – May 15)
Summer (June 1 – August 31)
Fall (September 15 – December 15)
Fellows will be selected annually for three-month
residencies.
Lodging includes a private bedroom with a desk and a private bathroom. Residents will share the common living spaces.
In the application section, candidates will be asked to indicate their preferred residency term.
Two fellows will share the residence during each term. (Due to the nature of the quarters, partners and families cannot be accommodated.)
The Fellowship is accompanied by cash prize of $10,000 USD.
Fellows must secure their own necessary travel documents and visas. Visa requirements vary depending on the country of origin and length of stay. Individuals visiting the UK for research purposes most often require a Standard Visitor Visa. The GSD will furnish letters of invitation, if necessary.
Application Procedure:
Applicants will be asked to submit:
Current CV
Brief research proposal (700 words), including description of the need for a residency in London
Portfolio (up to 10 images or documents), including design work and/or research projects and publications
Three references (names and affiliations only; letters will be requested of finalists)
THE DEADLINE TO APPLY FOR A 2017 RESIDENCY (SPRING, SUMMER, OR FALL) IS 28 NOVEMBER MIDNIGHT EASTERN STANDARD TIME. Winners will be notified by early December.
For More Information:
Visit the Official Webpage of the Richard Rogers Fellowship 2017 Residencies at Harvard University Graduate School of Design