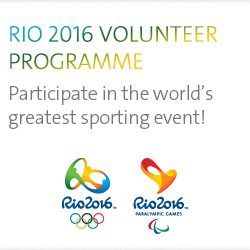 Application Deadline: November 15 2014
When : The Olympic Games will be held between 5 and 21 August 2016.
The Paralympic Games will take place between 7 and 18 September 2016.The Rio 2016 Volunteer Programme is your opportunity to be part of the biggest sporting event in the world. A number of diverse activities will be taking place in four regions of Rio de Janeiro – Barra, Deodoro, Maracanã and Copacabana – and there will also be positions in the football cities (São Paulo, Brasília, Salvador and Belo Horizonte). This is a unique opportunity that will provide not only personal and professional development, but also close interaction with people from all over the world.
In
2016
, a group of
70,000
volunteers will help stage the Olympic and
Paralympic Games in Rio de Janeiro.
In order to be part of this group, you will be guided along a journey of approximately two years, during which time you will discover the
best role
to match your profile.
There are dozens of possibilities, from helping at airports and ceremonies, to being a photographer's assistant or camera operator. Since we want to avoid anything getting in the way of your work during the event, we are preparing our venues with everything you will need.
helping with many of the activities that will be carried out in Rio de Janeiro and cities hosting football matches. Volunteering will also benefit you by enriching your CV, expanding your network, and giving you the chance to meet people from different cultures. You will also be able to enjoy exclusive training courses that will be provided for selected candidates. Do not miss out on this great opportunity to participate and make the history of the Olympic and Paralympic Games part of your own life's history
To be part of the Rio 2016 Volunteer Team,you need to:
be 18 years old by 28 February 2016
be available for ten days during the Olympic and/or Paralympic Games
have completed your basic education (not mandatory)
be available during each step of the selection process and undergo training sessions, which may take up to three full days

Timeline:
Application Deadline: November 15 2015
Online Dynamics: October 2014
Beginning of the Interview Process: Febraury 2015 to May 2016
Letter of Invitation: June 2015
Start of Training Sessions: November 2015 to June 2016
What types of documents will i need to complete the form?
Before starting your application, make sure you have your passport in hand. Brazilians will require their Identification Document and CPF in order to complete the form. The first stage of your registration process will take up to 40 minutes, on average.
What do I need to volunteer?To volunteer at the Rio 2016 Games,
you to have completed secondary (high school) education,
you must be at least 18 years old as of February 28, 2016, and
you need to be available to work as a volunteer during the Games.
You also need to be available to participate in online training and in-person interviews.
How will the selection process work?
All volunteer candidates will participate in the 'Volunteer's Journey', which will consist of several phases (some in-person and others online):• Application on the website – to take place in August 2014
• Values and language tests – to be conducted between August and November 2014
• In-person interviews – to take place in 2015
• In-person and online training – to take place in 2015 and 2016
• Volunteer's Journey approval – in 2016
Can I volunteer for the Olympic and Paralympic Games, or must I choose just one?

All interested parties can volunteer for both Games. However, candidates must be available to work for at least 10 days at each one.
For More Information:
Apply Now for the Rio 2016 Volunteer Programme