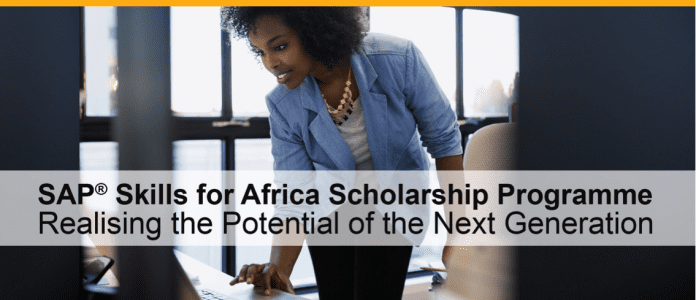 Location: Johannesburg, GT, ZA
Company: SAP
Requisition ID: 116973
Work Area: Consulting and Professional Services
Expected Travel: 0 – 30%
Career Status: Graduate
Employment Type: Limited Full Time
Additional Locations: No Selection
Job Segment: Academic, SAP, ERP, Consulting, Intern, Education, Technology, Entry Level
Programme start date: September 2016

As market leader in enterprise application software, SAP helps companies of all sizes and industries innovate through simplification. From the back office to the boardroom, warehouse to storefront, on premise to cloud, desktop to mobile device – SAP empowers people and organizations to work together more efficiently and use business insight more effectively to stay ahead of the competition. SAP applications and services enable customers to operate profitably, adapt continuously, and grow sustainably.
The Objective & Mission of the SAP Skills for Africa programme is to contribute to sustainable workplaces for the next generation of local talent in the region. We achieve this by training & certifying young graduate students in the world's most powerful software suite. Our aim is to help them to have the opportunity for a regional or global career.
SAP Skills for Africa Programme invests in the future workforce and delivers a comprehensive program which combines technical and soft skill elements over a set period of time. At the end of the program and upon successful graduation the trainees becomes certified SAP consultants, with a guaranteed job placement within the SAP Ecosystem.

https://www.youtube.com/watch?v=WN49QctODco
Requirements:
Candidates must be a South African National
Candidates must be unemployed at Start of training
Candidates must be educated to at least Bachelor level in a field of Computer Science, Accounting, Statistics, Mathematics, Business Studies etc, or another subject related to  business or software. National Diplomas will also be considered.
Candidates will preferably have graduated within the last three years with a Minimum grade of C OR GPA of no less than 3.00 –proof of this will be requested
Candidates will preferably have a keen interest in starting an SAP-related career involving travel
The course will be delivered in English so a good grasp of both written and spoken English is essential
Candidates must possess good problem solving capabilities, presentation skills and a general understanding of Microsoft Office and IT.
Benefits:
Three month full time SAP training programme at no cost to you
Hands-on simulated project exercises throughout the programme
Official Associate Level SAP Certification
Possibility of an internship in the SAP ecosystem after training, based on performance,
Apply Now for the SAP Skills for Africa Graduate Scholarship Programme 2016
For More Information:
Visit the Official Webpage of the SAP Skills for Africa Graduate Scholarship Programme 2016