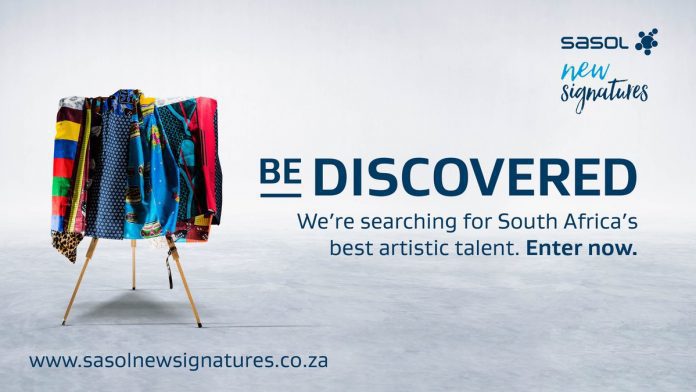 Application Deadline: June 30th 2017
Discovering and promoting South Africa's artistic talent is at the very heart of Sasol New Signatures Art Competition. Being the longest running competition of its kind in South Africa, Sasol New Signatures has played a pivotal role over the years in unearthing local artists and promoting them to the art-loving public.
This year's competition intends to remain true to this legacy by looking for those hidden artists that want to break into the mainstream.
Contemporary, innovative and emerging artists are invited to enter the 2017 competition. This annual competition is open to all South African artists who are 18 years and older who have not yet held a solo exhibition (a solo exhibition entails a body of work of at least 20 works exhibited in a commercial gallery). Artists who have held a solo exhibition for academic purposes, i.e. a Masters Degree exhibition, are allowed to enter. Artists are able to submit artworks in all artistic mediums including photography, performance art, video and installations.

Prizes
First prize: R100 000 and an opportunity of a solo exhibition at the Pretoria Art Museum (Terms and Conditions apply).
Runner-up: R25 000
Five Merit awards: R10 000 each
Requirements:
1. Emerging artists who are 18 years or older who have not yet held a *solo exhibition, except for academic purposes (*solo exhibition: a body of work of at least 20 works in a commercial gallery).
2. Only artists who are permanent residents in South Africa may participate in the competition.
3. All entries must be accompanied by the following documentation:
• A completed and signed entry form
• A copy of the artist's Identity Document or Permit of Permanent Residence
• Colour photograph of the work (for reference only)
• Biography of no longer than 250 words
• Conceptual statement/synopsis of no longer than 250 words that outlines the central idea of the work
• Assembly, maintenance and disassembling instructions (if applicable)
Which works may be entered?
4. An artist may enter a maximum of two works.
5. All works should be the original artistic creation of the participating artist and their making may not constitute an infringement of copyright.
6. The artist must be the owner of the copyright in the works and be able to grant to the organisers the rights set out in clause 7 below.
7. The artist must grant to the organisers the non-exclusive right to make reproductions of the artworks in any manner or form, royalty free, for marketing, promotional, educational and academic purposes and for purposes of exhibiting the artworks.
8. Works may be produced and submitted as collaborative works by a maximum of two artists. It is the responsibility of the creators of the work to nominate one representative on the entry form. Both artists must supply a copy of their Identity Documents or Permit of Permanent Residence, and biographies.
9. A single work with all its components may not exceed 250cm x 250cm x 250cm. Refer to clause 19 on the entry form for details regarding weight.
10. Entries in any medium may be entered. The use of hazardous and flammable products is however, not allowed.
Application
The proposal must be delivered, couriered or emailed to the Association of Arts Pretoria before Friday, 2 June 2017.
The artist will be required to do the performance for regional selection at a collection point. The date and time of the performance will be arranged with the artist by the organisers. If the entry is accepted for the Sasol New Signatures exhibition, the artist must enter into a contract with the organisers.
Breach of contract by the artist before or during the exhibition, will result in the artist being barred from entering future Sasol New Signatures Art competitions.
Email: [email protected]
Physical address: Association of Arts Pretoria, 173 Mackie Street, Nieuw Muckleneuk, Pretoria
For More Information:
Visit the Official Webpage of the Sasol New Signatures Art Competition 2017