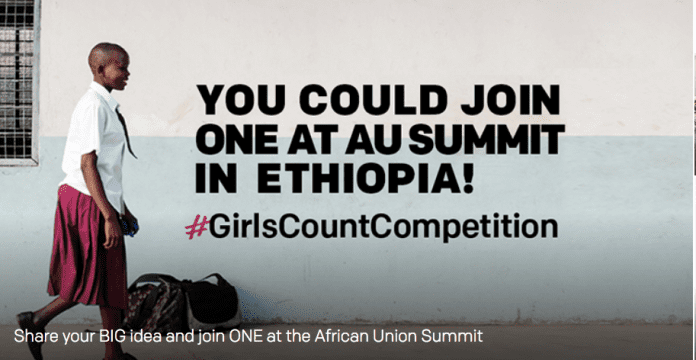 Submission Deadline: 17 November 2017
Tell us your big idea to make sure girls count – and you could be sharing it with African leaders!
130 million girls around the world are being denied an education — and 53 million of them are right here in Africa. Without an education, no child can reach their full potential. This has to change.
The 2017 African Union theme is "Harnessing the demographic dividend through investments in Youth" and there's been a lot of conversation all over the continent about the best way to ensure that this vision is achieved and successful.
Young people will shape the future of the continent, so we're asking 18-35 year olds to share their best ideas for how African leaders can make sure all girls count.
How do we get every girl in to school and learning? How do we make sure girls don't face violence at home, in school or on the street? How do we enable girls to become the engineers, entrepreneurs and political leaders of tomorrow?
Eligibility to Enter:
Entrant essays may not exceed 500 words. If any essay exceeds the maximum word count described herein, it will be disqualified at the sole and absolute discretion of ONE.
Eligible Entrants: Entrants must:

Be between the ages of 18 and 35 years;
Be currently living in Africa and a citizens or permanent resident of the African country in which they live;
Submit an essay according to these Rules;
Submit an original piece of writing answering the question posed in paragraph 1 above; and,
Have a valid passport or international travel document.

Ineligible Entrants: Entrants may not be ONE employees, judges or direct suppliers of the Awards, or immediate family of ONE employees, competition judges or direct suppliers of the competition.
Entry:
Entries will be accepted starting at 12:00 am on 17 October, 2017 and close at 12:00 am on 17 November, 2017.
The winners will be announced on 15 December, 2017.
All decisions made by ONE are final.
Late or incomplete entries will be disqualified at the sole and absolute discretion of ONE.
Judging Criteria:
Ability to articulate the challenge; and,
Ability to share possible solutions to the challenges they face.
Prizes:
An opportunity to join ONE at the AU Summit in January, an iPad, exciting ONE hampers, an opportunity to become ONE youth ambassadors, and be featured on ONE's digital platforms.
Share your idea, and you could be joining the ONE team at the AU Summit in January 2018, in Addis Ababa.
ONE will be short-listing the finalists here, and the public will vote to decide the winner. Finalists will each received a hamper of ONE merchandise.
For More Information:
Visit the Official Webpage of the join ONE at the 2018 African Union Summit