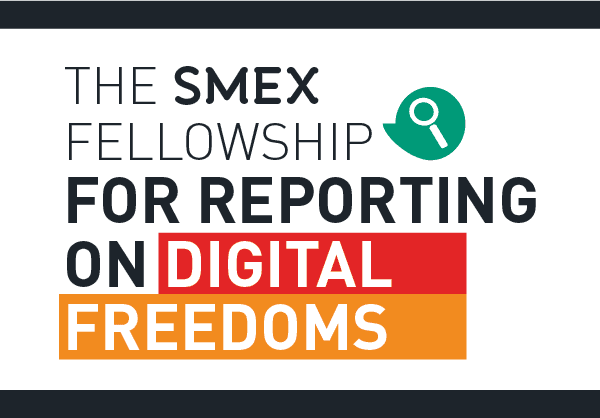 Application Deadline: January 13th 2017
The SMEX Fellowship for Reporting on Digital Freedoms is a three-month stipend-supported fellowship based in Beirut, Lebanon. The program is designed to encourage, facilitate, and disseminate research on digital rights in Lebanon, with the goal of advancing evidence-based public debates. Two fellows will be selected to investigate a topic of their choosing and produce an in-depth report detailing their findings.
The fellows will be supported and mentored by SMEX advisors, who will offer them the opportunity to develop their skills, expertise, and knowledge on issues related to privacy and surveillance in the Middle East and North Africa (MENA).
Eligibility Criteria
To be eligible for the fellowship, applicants must:
Have at least three years of experience reporting on Lebanon and/or the MENA region
Be full-time residents of Lebanon, with knowledge of the country's politics, history, and laws. Having well-established contacts is a plus
Be writers, reporters, journalists, or bloggers with an interest to work on questions related to digital rights, privacy, and surveillance
Application and Selection Process
Applications are accepted starting Dec.16, 2016 and through Jan. 13, 2017. Applications are first reviewed by SMEX, who will then convene a review committee with experts and advisors from Privacy International (PI) and other partner organizations to select the finalists. After conducting an interview with each finalist, notifications will be sent to the selected fellows by January 27, 2017, and a public announcement will follow. After further developing their research proposal with SMEX advisors; the fellows are expected to start the program on February 6, 2017.
Required Documents
Email the following documents to [email protected], only PDF files are accepted. Applications with missing documentation will not be considered. You may submit your application in English, French, or Arabic.
A recently updated CV detailing your educational and work background
A one-to-two-page single-spaced preliminary project proposal that clearly defines your research question, briefly outlines methodologies expected to be used, lists potential sources, and assesses foreseeable risks (make sure to also tell us why your research topic matters)
At least three work samples that best exemplify your research, writing, or investigative abilities
Two professional references from former, or current employers who can speak about your work
Stipulations
To be awarded a SMEX Fellowship for Reporting on Digital Freedoms, the fellow must agree to complete the following, within the specified time frame where applicable:
Check in with their advisors on a biweekly basis, updating them on their progress and seeking their assistance when needed
Document their own investigative process and write one blog post per month, totaling three during their fellowship
Submit a final investigative or in-depth report, as outlined in their research proposal, for review at the end of the program
Attend at least one public event hosted by SMEX presenting the findings of their investigation
For More Information:
Visit the Official Webpage of the SMEX Fellowship for Reporting on Digital Freedoms