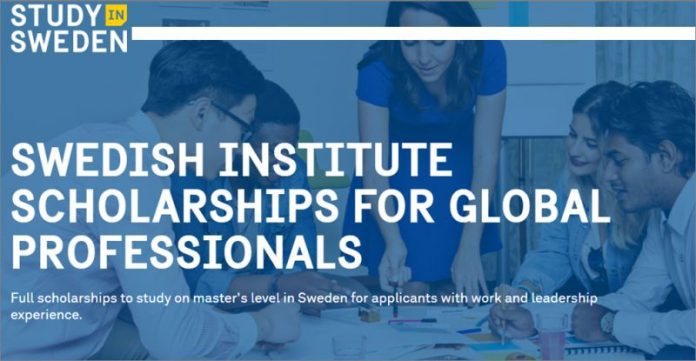 Application Deadline: February 20th 2020
Do you have ambition, leadership experience and a strong professional background? You could study for a master's degree in Sweden on a fully-funded Swedish Institute scholarship
SI grant scholarships to a large number of master's programmes starting in the autumn semester 2020. We will publish a list of master's programmes that are eligible for SI scholarships for the academic year 2020/2021 by 6 November 2019.
To begin with, apply for a master's programme at universityadmissions.se, between 16 October 2019 – 15 January 2020.
Apply for an SI scholarship between 10-20 February 2020, follow the instructions below.
An estimated 300 scholarships will be available for full-time master's degree studies in Sweden starting in the autumn semester 2020.

Criteria
Work experience
You must have minimum of 3,000 hours of demonstrated employment.
Read more about the criteria for work experience
Leadership experience
You must have demonstrated leadership experience from your current or previous employment.
Read more about the leadership experience criteria
Country of citizenship
You must be a citizen of a country that is eligible for the scholarship programme.
Read more about country of citizenship
Master's programmes
The master's studies must be eligible for SI scholarships.
Read more about the eligible master's programmes
University admissions
You must be liable to pay tuition fees to Swedish universities, have followed the steps of university admission, and be admitted to one of the eligible master's programmes by 3 April 2020.
Benefits:
The scholarship covers:
Tuition fees: pay directly to the Swedish university by SI
Living expenses of SEK 10,000/month
Travel grant of SEK 15,000 *
Membership of the SI Network for Future Global Leaders (NFGL) – a platform to help you grow professionally and build your network while in Sweden
Membership of the SI Alumni Network after your scholarship period – a platform for continued networking and further professional development
Required documents
You should only submit the required documents listed below in your online scholarship application. We will not consider any other documents than the required ones. You must complete your application in English. Use our forms and templates provided below and complete them according to the instructions both below and in the forms, or else your applications will be disqualified. Kindly note the length limitation for your answers and the documents.
Information about required documents and the forms needed for the documents will be published here well in advance of the application period.
You will also need to attach a copy of your passport in your application. Your personal data including name, citizenship and photograph must be shown clearly.
How to apply
1 Apply for a master's programme at universityadmissions.se Date: 16 Oct 2019 – 15 Jan 2020 2 Apply for an SISGP scholarship Date: 10 Feb 2020 – 20 Feb 2020 3 Notifications from University Admissions Date: 3 Apr 2020 4 Announcement of 300 successful SI scholarship recipients Date: 24 Apr 2020
For More Information:
Visit the Official Webpage of the Swedish Institute Scholarships for Global Professionals