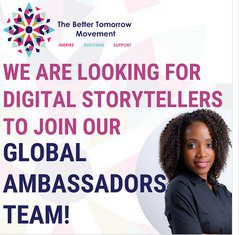 Application Deadline: May 25th 2019
The Global Ambassadors are country representatives from across the world who creatively share stories of inspirational change-makers with our growing international audience.
If you are an aspiring videographer, photographer, writer, or storyteller that wants to use your skill set to share inspiring stories of young social impact creators in your community with our growing international audience, then this opportunity is a great fit for you!
AMBASSADOR BENEFITS

Showcase your work to our global audience and build an online portfolio of your creative content.
Develop strong digital storytelling and content creating skills.
Play a role in the growth and development of inspiring people and projects, contribute towards social and/or environmental impact in your community.
Receive a certificate and online recognition for your contributions to TBTM upon successful completion.
By being selected to be a part of our 2019 cohort (6 month period), you will have the opportunity to connect with young leaders who are working towards creating simple yet impactful solutions to problems affecting your community, and share their story with our social media following through videos and written blogposts.
As a GA you will also be able to represent your country or local community by highlighting the innovative solutions young leaders in your community make with our international audience. You will also be able to build a network of young creatives who have joined our GA program both this year, as well as in the previous years. In addition, you will be able to build an online portfolio of your work and track engagements based on likes, shares, and comments.
If you have any questions regarding the program or the application process, please feel free to email us at [email protected] before filling in and submitting your application.​
For More Information:
Visit the Official Webpage of the Better Tomorrow Movement Global Ambassadors Program 2019