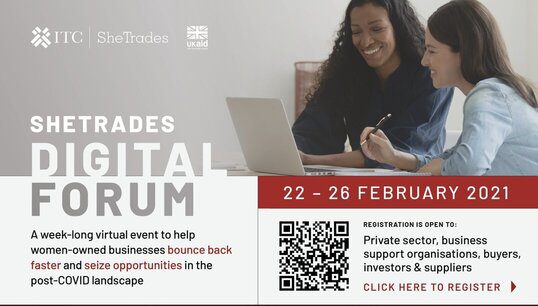 Small and medium-sized enterprises (SMEs) have been hit hard during the COVID-19 pandemic. Women-owned businesses, in particular, have been disproportionately affected.
The SheTrades Digital Forum aims to leverage partnerships and knowledge exchange among stakeholders – women-owned businesses (WOBs), private sector, business support organisations (BSOs), buyers, investors, and suppliers – to help women-owned businesses bounce back faster and seize opportunities in the post-COVID landscape.
Organised by the SheTrades Commonwealth project, SheTrades Digital Forum (22 – 26 Feb 2021) is the first of several events leading up to SheTrades Global Dubai.
What Can I Expect?

Connect the International Trade Centre's Commonwealth network of WOBs, BSOs, Buyers, Investors, and Suppliers;
Share inspiring success stories and lessons learned on how WOBs and BSOs are adapting to the "new normal";
Establish new partnerships and reinforce existing ones across the Commonwealth;  
Facilitate business deals, investments, and new opportunities.
What's On?
As the launch event of SheTrades Global Dubai, SheTrades Digital Forum activities will be organised around the themes of Sustainability, Partnerships, and Digitalisation.
There is something for everyone – whether you are an entrepreneur, investor, private sector or business support organisation, etc.:
Panel Discussions involving women entrepreneurs, sector experts, investors, and more;
Networking Power Hours;
Thematic Virtual Lounges;
Virtual Booths (for selected SheTrades Commonwealth businesses).
Who Should Apply?
SheTrade welcome registrations from any of the below stakeholders across the Commonwealth:
Women-Owned Businesses;
Buyers;
Investors;
Private Sector;
Business Support Organisations; and
Suppliers
For More Information:
Visit the Official Webpage of the SheTrades Digital Forum 2021