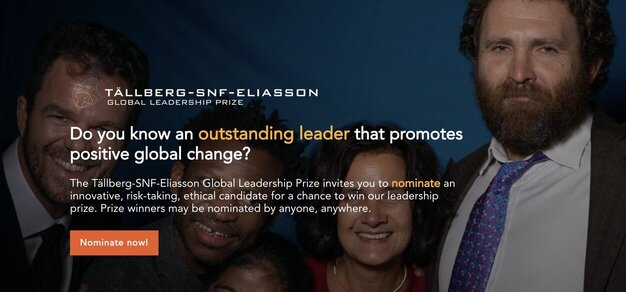 Application Deadline:May 24th, 2021
Do you know an outstanding leader that promotes positive global change?
The Tällberg-SNF-Eliasson Global Leadership Prize invites you to nominate an innovative, risk-taking, ethical candidate for a chance to win our leadership prize. Prize winners may be nominated by anyone, anywhere.
Benefits

Awards of $50,000 and $25,000
4 prizes in total from 2 categories: emerging and established leaders
Leaders from any discipline and any part of the world are eligible
Winners become part of a network of global leaders
Worldwide exposure
Rules:
Anyone, anywhere—except for prize jurors—can nominate a leader from any country and from any discipline e.g. politicians, statesmen, scientists, educators, social entrepreneurs, CEOs, environmentalists, artists, religious and military figures, and others.
The working language for the Prize process is English.
Nominations are made in the form below in five simple steps:
Provide us with your and the nominee's contact details;
Tell us why the candidate deserves to be considered for the prize;
Share her or his career highlights with us;
Add any relevant supporting materials for the nomination;
Push submit/save
You can make submissions (max 2 submissions per person) and if you need to edit your submissions, use the link in your confirmation email by the final deadline on Monday, May 24. There is no advantage to submitting several nominations for the same person.May 24th, 2021
For More Information:
Visit the Official Webpage of the Tällberg-SNF-Eliasson Global Leadership Prize 2021