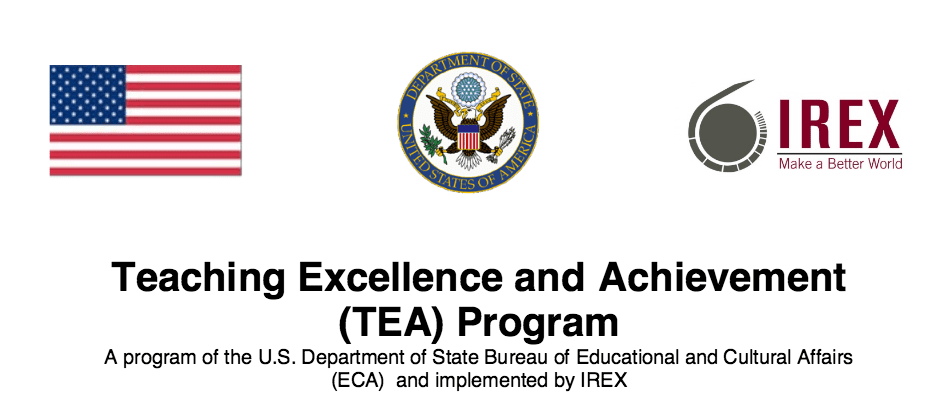 Application Deadline: Varying by Countries
The Teaching Excellence and Achievement Program (TEA) provides outstanding secondary school teachers of English, social studies, math, science, and special education with unique opportunities to develop expertise in their subject areas, enhance their teaching skills and increase their knowledge about the United States.
TEA is a six-week customized academic program that includes seminars on curriculum development, lesson planning, instructional technology, and new teaching methodologies. Fellows participate in a practicum in a US secondary school, working closely with US teachers and students. The program provides cultural enrichment, mentoring, and support.
Teachers come to the United States from all world regions for a six-week academic program at a U.S. university graduate school of education, including intensive training in teaching methodologies, lesson planning, teaching strategies for their home environment, teacher leadership, and the use of instructional technologies. The program also includes field experience at a secondary school to engage participants with American teachers and students.
Eligibility Requirements:
Details for this program may vary by country. In general, applicants must meet the following criteria:
Current secondary school-level,* full-time teacher in an institution serving primarily a local population;
A bachelor's degree or equivalent;
Be citizens of and residents in eligible TEA countries: Algeria, Argentina, Armenia, Azerbaijan, Bangladesh, Belarus, Bolivia, Burkina Faso, Cambodia, Cameroon, Chile, Colombia, Costa Rica, Cote d'Ivoire, Dominican Republic, Ecuador, Egypt, El Salvador, Estonia, Georgia, Ghana, Guatemala, Haiti, Honduras, India, Iraq, Jordan, Kazakhstan, Kyrgyzstan, Laos, Latvia, Lebanon, Lithuania, Malawi, Mali, Moldova, Mongolia, Mozambique, Nepal, Nicaragua, Niger, Nigeria, Panama, Peru, Russia, Rwanda, Senegal, South Africa, Sri Lanka, Sudan, Tajikistan, Thailand, Tunisia, Turkey, Turkmenistan, Ukraine, Uruguay, Venezuela, Vietnam, West Bank/Gaza, Zambia, and Zimbabwe;
Five or more years of classroom experience as a teacher of English, English as a foreign language (EFL), mathematics, science, or social studies, including special education teachers in those subject areas;
Proficient in written and spoken English with a TOEFL score of 450 on the paper-based TOEFL or an equivalent English-language examination;**
Demonstrated commitment to continue teaching after completion of the program; and
A complete application.
*Secondary-level teachers include both middle and high school teachers working with students between approximately 12 and 18 years of age. Teachers responsible for teaching additional grade levels must teach middle school or high school students more than 50% of their work time in order to be eligible for the program.
Fellowship Worth:
The TEA fellowship is fully funded and provides:
J-1 visa support;
A pre-departure orientation held in participant's home country
Round-trip airfare to and within the U.S;
A Welcome Orientation in Washington, D.C.;
Academic program fees;
Housing (generally shared with other program fellows) and meals;
Accident and sickness medical insurance coverage;
Transportation to the teaching practicum school (if necessary);
A daily allowance for meals and incidentals during the academic program;
A baggage/shipping allowance (domestic and international);
A book/professional development allowance;
Selection Criteria:
Demonstrated commitment to teaching in the field of secondary education;
 Demonstrated leadership potential;
Professional and educational experience and achievements;
Potential for developing long-term linkages between U.S. and home country educational institutions and schools;
Preparedness (including maturity, flexibility, and ability to function independently) for an intensive U.S.-based training program with very limited free time for personal travel or sightseeing;
Willingness and capacity to work and live collaboratively with international peers to foster a positive learning community for professional development;
Ability to express ideas clearly and effectively; and
English language skills adequate to manage coursework, develop lesson plans, and team -teach in U.S. schools (a minimum paper-based or equivalent TOEFL score of 450 is required for TEA participation).
Applicants who have had few or no opportunities to travel to the U.S. will be given priority.
Apply Now for the Teaching Excellence and Achievement Program (TEA) 2017/2018
For More Information:
Visit the Official Webpage of the Teaching Excellence and Achievement (TEA) Program 2017/2018