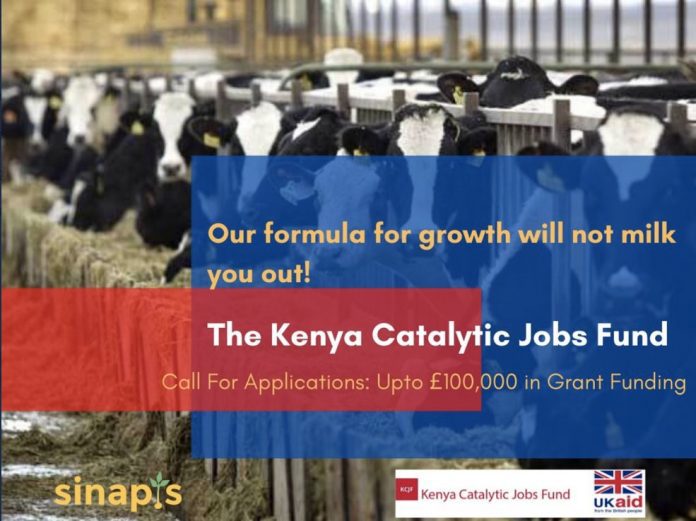 Application Deadline: March 15th 2020

Through the Kenya Catalytic Jobs Fund, the UK's Department for International Development (DFID) aims to provide technical assistance and grant funding to organizations with the potential to implement innovative solutions with the potential to create large scale, productive jobs for youth and women.
The Kenya Catalytic Jobs Fund is a £5m, 4-year catalytic jobs fund that will, through a mix of technical assistance and grant support, test competitively selected innovations that have potential to unlock market constraints and create jobs, including for the most vulnerable, e.g. people living with disability. The programme will contain a strong emphasis on learning and evidence. It will seek to generate knowledge, data and evidence on ways of addressing barriers to job creation and disseminate findings to relevant stakeholders, including potential investors.
The KCJF is a £5M UK – Aid-funded programme designed to test and support innovative enterprises that have the potential to catalyse job creation for the youth and vulnerable populations in Kenya, at scale.

The fund seeks to support innovations aimed at increasing international competitiveness in agriculture and manufacturing; support innovations aimed at raising productivity and/or supporting shifts into the formal sector; diversify risks and access larger, longer duration loans in order to grow micro-enterprises; catalyse sustainable change in sectors and geographies that have the potential to create employment and increase incomes for disadvantaged groups, including women and people living with disabilities (including semi-arid lands).


Target Impact
The intended programme impact is increased or improved productive employment opportunities for poor young men and women in target sectors and geographies.
Target outcomes
Increased number and quality of jobs for young and vulnerable people
Expanded innovative solutions or new technologies unlock barriers to productivity in formal & informal sectors
Improved enterprise performance in the selected sectors (via productivity gains, investment and/or growth)
Requirements:
The Kenya Catalytic Jobs Fund is designed to support a broad range of enterprises including early stage and mature enterprises as well as non-profit organisations that meet the following criterion;
Is legally registered and operates in Kenya
Is implementing an innovative solution(s) that addresses felt needs
Is able to demonstrate the minimum viable product/post proof of concept for the innovative solution
Is able to demonstrate initial investments into the innovative solution
Has potential to grow exponentially, create more jobs and improve livelihoods at scale.
Important Note: Government organisations, political parties and organisations that advocate, or espouse anti-democratic policies or illegal activities are not eligible to receive funding from the Kenya Catalytic Jobs Fund.
Eligible Costs and Activities
Grant funds provided under the Kenya Catalytic Jobs Fund can support any activities that directly contribute to the desired impact, which is to create jobs, increase income for youth and vulnerable populations in target sectors and geographies associated with increased or improved productive opportunities.
Eligible activities include but are not limited to growth and expansion of existing innovative solutions, introduction of new tech-based solutions, expansion to new markets for products, value addition and micro-level processing, and provision of educational and/or skill building services.
For More Information:

Visit the Official Webpage of the DFID Kenya Catalytic Jobs Fund