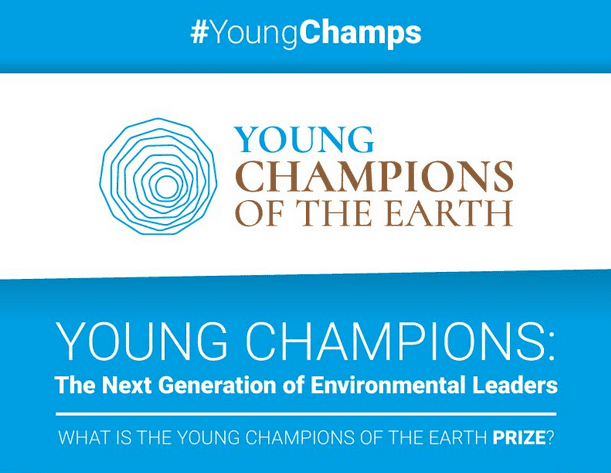 Application Deadline:  18 June 2017 midnight GMT
Each year, six young people – one from each global region – will be named Young Champions of the Earth. These winners receive seed funding, intensive training, and tailored mentorship to help them bring their big environmental ideas to life.
If you have a big idea to protect or restore the environment; if you have a vision for a more sustainable future; if you have a strong track record of instigating change; if you are unafraid of failure; and if you believe in a bright future for our planet, then you just might have what it takes to become a Young Champion of the Earth.
Eligibility Requirements:
To be eligible to apply for the 2017 Young Champions of the Earth Competition (hereafter referred to as "the Competition"), you must be between the ages of 18 and 30 on 15 November 2017. That is, your birthdate must fall between 1 January 1987 and 15 November 1999 (inclusive).
Young Champions of the Earth aims to celebrate and support individuals between the ages of 18 and 30 who have outstanding potential to create positive environmental impact.

The Prize:
Six Young Champions of the Earth are selected every year, one from each global region (Africa, Asia-Pacific, Europe, Latin America and the Caribbean, North America, and West Asia). Each winner receives the following:
US$15,000 in seed funding;
Attendance at the United Nations Environment Assembly in Nairobi, December 2017, and the United Nations General Assembly in New York, September 2018 (all expenses paid);
An introduction to over 100 environment ministers at the Champions of the Earth Gala Dinner;
Publicity and recognition through online and global media;
Access to high-profile mentors and customized training in communications, project planning, financial management, etc.
Participation in an intensive, one-week entrepreneurship course in Europe in the first quarter of 2018 (all expenses paid).
The Young Champions will be required to contribute one blog post and one video per month between December 2017 and September 2018, so that the public can follow their implementation journeys on the Young Champions website.
Mentorship
More than just a prize-giving scheme, Young Champions of the Earth aims to nurture the next generation of environmental leaders. Through our networks and partnerships, we connect Young Champions with business leaders, scientific innovators, national-level policymakers, and United Nations experts, among many other communities.
In making these connections, we help young people with extraordinary potential put their big ideas into action. We also increase their potential to do amazing things throughout their lives.
The Young Champions of the Earth corporate partner, Covestro, is a key source of both mentorship and hands-on project assistance. The company's 16,000 global staff members stand ready to support the 30 Young Champions finalists on topics ranging from project planning to budgeting to the innovation process itself.
Selection criteria
In the first stage of the selection process, all applications will be judged by Regional Juries according to the following criteria:
The 3 Ps – The positive impact your big idea could have on the environment (planet) and society (people), and its financial viability (prosperity).
Demonstrated commitment – Bonus points may be awarded if you have already attempted to implement your big idea and can report on any trial runs, prototypes, or preliminary research results.
The 3 Cs – Evidence that you are a curious, courageous, and colourful individual.
The 2030 Agenda for Sustainable Development – The potential contribution of your big idea to the attainment of the environment-related UN Sustainable Development Goals.
Sponsor – The strength of your sponsor's recommendation.
For More Information:
Visit the Official Webpage of the UN Environment Young Champions of the Earth Competition 2017