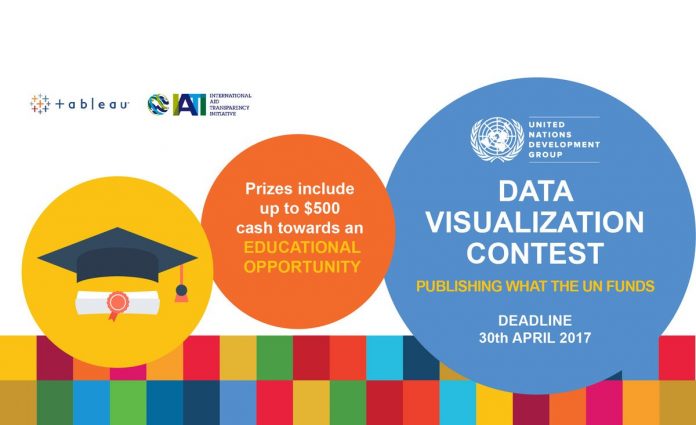 Application Deadline: April 30, 2017.
The United Nations Development Group (UNDG) Data Visualization Contest, sponsored by Tableau, is offering the opportunity for data scientists to showcase their skills by analysing and visualizing data from the new UNDG Transparency Portal.
The UNDG Transparency Portal displays data from UNDG members that are currently publishing to International Aid Transparency Initiative (IATI) standard. The objective of publishing to IATI standard is to improve the transparency and openness of aid, development, and humanitarian resources in order to increase their effectiveness in tackling poverty.
You can create a data visualization across any theme, country or region that combines UNDG data (through the UNDG Transparency Portal) to other agency datasets such as World Bank and Human Development Report data. Examples of datasets that can be used for this contest include, but are not limited to:

Prizes:
Winning entries will be given a certificate of participation from the United Nations Development Operations Cooperation Office on behalf of the United Nations Development Group. Prizes for winners include one of the following:
Prize: One year free subscription to Tableau Professional (worth $1,499);
Prize: Up to $500 cash prize towards an educational opportunity or
Prize: Presentation of your visualization at the Transparency Portal launch event organized at UN Headquarters
Winning entries will be advertised on the following portals:
Instruction and Submission:
Develop a summary of your data visualization that explains:
Choice of topic/theme
How the dataset was obtained and sources
Any cleaning, parsing, and analysis you performed on the dataset
How data visualization improves/highlights a new understanding of the topic
Any conclusions or inferences that can be made from the data visualization
The summary should not exceed 500 words and must be in English.
To create a visualization using Tableau:
Download Tableau Desktop Profession, the product used by authors to create and publish dashboards. Tableau Desktop is available for both iOS and Windows PCs.

Use the special key below provided by Tableau exclusively for the UNDG contest to activate the software.

This key is valid till April 30th: License Key: TDBR-7C1B-85B0-0281-AF7B.
Create an account on Tableau Public  to publish your final Dashboard submission: 

https://public.tableau.com/s/

 

Once a dashboard has been published, it is accessible via a web browser.

Need inspiration or want to see the art of what's possible?  Check out the Tableau Public Gallery 

https://public.tableau.com/s/gallery
For information regarding data use, technology difficulties and any other concerns please email [email protected] 
For More Information:
Visit the Official Webpage of the UNDG Data Visualization Contest 2017 for Data Scientists.