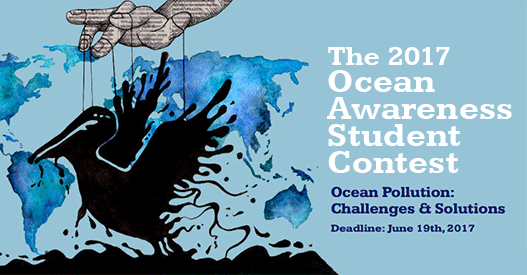 Application Deadline: June 19th, 2017 11:59pm Eastern Standard Time.
Bow Seat 2017 Ocean Awareness Student Contest invite middle and high school students from around the world to participate in the 2017 Bow Seat Ocean Awareness Student Contest! This year's theme is Ocean Pollution: Challenges & Solutions.
Bow Seat encourage you to connect your submission to your own life, your local community, or something else that inspires and motivates you. Some questions that you might consider as you work on your submission are:
Who is to "blame" for ocean pollution? What are the sources of ocean pollution?
Who – and what – is impacted by ocean pollution?
How does ocean pollution at one end of the world affect the other end?
What innovative solutions have been created or proposed to address different types of ocean pollution? What challenges do these innovations face to widespread implementation?
How should scientists, designers, and policy-makers work together to address ocean pollution issues? How do local communities take part? How do individuals play a role? What role do you play?
What is the first step to raising awareness about ocean pollution?
How does meaningful change happen?
What does the future ocean look like to you?
awards
Awards will be presented in each of the four categories at both middle school and high school levels:
Additional Awards Available in 2017
Over the course of the Contest, other awards may become available and will be listed here. The winners of these awards will be chosen and announced at the same time as the category awards.
Divisions
Age Groups
• Middle School: 6th – 8th grade, or International or Homeschool Equivalent
• High School: 9th – 12th grade, or International or Homeschool Equivalent
You can submit as:
• an Individual, meaning that you are the sole creator of your submission; or
• a Group. Groups can be of unlimited size, but you must provide the names of each group member. There will be one group leader who will serve as the contact person for the group. Awards will be given to the group as a whole.
How to Enter
• There is no fee to enter the Contest.
• Students must create an account and submit their work through our online system by the Contest deadline. Bow Seat cannot accept submissions via email or physical mail.
• Students must have an adult sponsor, usually a teacher. Homeschooled students may put down their homeschool teacher's name.
• Entries submitted previously to the Bow Seat Ocean Awareness Student Contest will not be considered in the 2017 Contest.
• All entries must be the students' original work. While we recognize that existing sources will be used for inspiration and research, Bow Seat reserves the right to disqualify an entry if we suspect plagiarism.
Submissions are judged based on:
• Artistic voice, originality, and imagination;
• Craftsmanship, including quality, technique, attention to detail, and accuracy of communicating ocean pollution issues;
• How well they address the theme of the Contest;
• Meeting the Contest submission requirements.
For More Information:
Visit the Official Webpage of the Bow Seat 2017 Ocean Awareness Student Contest