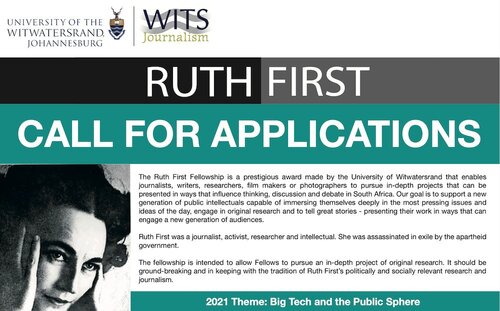 Application Deadline: Friday, 16 April 2021
The Ruth First Fellowship is a prestigious award made by the University of Witwatersrand that enables journalists, writers, researchers, film makers or photographers to pursue in-depth projects that can be presented in ways that influence thinking, discussion and debate in South Africa. Our goal is to support a new generation of public intellectuals capable of immersing themselves deeply in the most pressing issues and ideas of the day, engage in original research and to tell great stories – presenting their work in ways that can engage a new generation of audiences.
Ruth First was a journalist, activist, researcher and intellectual. She was assassinated in exile by the apartheid government.
The fellowship is intended to allow Fellows to pursue an in-depth project of original research. It should be ground-breaking and in keeping with the tradition of Ruth First's politically and socially relevant research and journalism.

2021 Theme: Big Tech and the Public Sphere
Despite lagging behind in opening a wider spectrum of radio frequencies for wireless transmission and increasing bandwidth, South Africa is immersed in, and is the continental leader in digital absorption and penetration. Consequently, the big technology companies and the instruments they facilitate and develop; most notably Google's search engine, WhatsApp, Facebook and Twitter have a profound influence in shaping the public sphere – and society, politics, media and the economy more broadly. There has been an epochal shift in how media is produced, consumed and distributed. Initial optimism about the democratic possibilities of social media – what some call the social industries – has given way to profound concerns about what the changes to the public sphere mean for journalism and politics.
This is, however, complicated terrain. Black Lives Matter, a hugely significant movement, was enabled by social media, as was the rise of Donald Trump to the Presidency of the United States. In South Africa Twitter has been used to drive fake news of various kinds and to incite and organise xenophobic sentiment but grassroots activists often rely on Whatsapp to organise meetings and communicate with journalists.
The instruments created and managed by Big Tech simultaneously help politics progress or hinder it, promote development or precipitate destruction and enable or limit possibilities for democratic discourse. They can give voice to some while silencing others; facilitate transparency and the free flow of information, or distort, fabricate and fake it. Powerful tech companies develop strengths and versatility that overpower elected Governments and by pass their oversight and regulatory control – something that some governments are starting to contest, in both authoritarian and potentially democratising ways.
The public sphere has never been a site of full inclusion and perfect equality. But, with all its limitations, it has been essential to democratic politics. What do the radical changes in the public sphere enabled by the power of Big Tech mean for the public sphere?
This year's Ruth First fellowship will seek to tease out the meaning, paradoxes and contradictions of the impact of the big technology companies and their instruments with regard to the public sphere.
Fellows will receive a monthly stipend and research costs.
They must be resident in South Africa.
They will be expected to devote at least 50% of their time in April-July 2021 to the Fellowship.
They will work at the Annual Ruth First Memorial Lecture in August and to submit it for publication in appropriate forums.
Applicants should submit their CV, a project proposal (of no more than two pages) outlining what their focus will be and a motivation letter (one page) by Friday, 16 April to the Ruth First Committee at [email protected].
For More Information:
Visit the Official Webpage of the University of Witwatersrand Ruth First Fellowship 2021