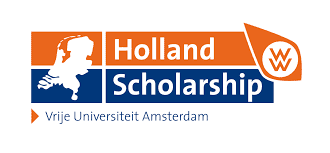 Application Deadline: 1 February 2017
Are you ready for the chance of a lifetime? Apply for the Holland Scholarship Programme!
The Holland Scholarship Programme (HSP) is financed by the Dutch Ministry of Education, Culture and Science, Dutch research universities, and universities of applied sciences. Students eligible for this scholarship are students from outside the European Economic Area (EEA) who are applying for a Master's programme in the Netherlands. Students from Suriname and Switzerland are not eligible to apply for the HSP scholarship.
Scholarship amount
The scholarship amounts to € 5,000. You will receive this in the first year of your studies.
Application criteria
You hold a non-EEA nationality that is not Surinamese or Swiss.
You are applying for a full-time English taught Master's programme at Vrije Universiteit Amsterdam.
The degree with which you are seeking admission has not been obtained in the Netherlands.
You need to have applied for VUFP. We will only award HSP scholarships to recipients of the VU Fellowship Programme.
We select excellent students who contribute to the diversity at our campus.
Vrije Universiteit Amsterdam embraces diversity as an enrichment to our teaching, research and our contribution to society. Furthermore, we aim to prepare our students for a global and diverse society and workplace. Before applying for the Holland Scholarship Programme (HSP), you need to apply for a Master's programme at Vrije Universiteit Amsterdam. You can apply for the scholarship until 1 February 2017.
Application Procedure
1. Register for Master's programme    
Students register for a Master's programme in Studielink and after that in the VUnet portal. Here you can find more information on how to applyfor one of our English-taught Master's programmes. Please note that you must have applied for the Master programme before you can apply for the HSP scholarship.
Deadline: 1 February 2017
2. Submit HSP application
Submit your HSP application in VUnet.
Deadline: 1 February 2017
For HSP application 3 documents are required:
 A. Proof of excellence/ GPA       
Students who apply for a HSP scholarship need to have a GPA of at least 80% of the highest possible mark (calculated over full previous degree). For example, if the highest possible mark is a 10, you need to have an average of at least a 8.
Excellence in previous education is proven if the grade point average achieved is at least the equivalent of the Dutch grade of 8.0 on the Dutch grading scale 1 – 10. The HSP  Scholarship Committee will decide on the local grade equivalents for the Dutch grade of 8.0 using  the grade information included in the NUFFIC country modules.
    B. Motivation letter       
Write a personal statement in which you reflect on your own identity. You may refer to your experiences in both international and local settings in the motivation letter. For the purpose of this scholarship, diversity includes (but is not limited to) ethnic, religious, gender, socioeconomic, sexual and cultural diversity. In this statement please reflect on how your identity has contributed to your academic interests and performance, and your involvement with diversity issues. Include how your identity has evolved by going through different experiences with diversity issues and your interaction with diverse groups or individuals (max 500 words).
C. Curriculum Vitae (CV)
We strongly recommend the use of the Europass format. The following three points must reflect on your CV to proof that you are an added value for diversity on our campus:
1. Describe your experiences with interacting in an intercultural setting. In your description, point out how you have developed intercultural competences (such as intercultural sensitivity, intercultural communication skills etc.) through these experiences. This can be both in local and international contexts
2. Give an example of how you have been involved with social justice issues. This includes, for example, the empowerment of marginalized groups, diversity education, different forms of activism and advocacy etc. Elaborate on your motivation for this involvement and the results that you have accomplished.
3. Elaborate on your current or previous commitment to service in your community, your motivation for commitment and how this has impacted the persons you work with. Reflect on your personal understanding of community service.
Results
All students will receive an e-mail/notification informing them of the Central Scholarships Committee's decision concerning their application.
Expected date: 1 April 2017 (8 weeks after the deadline).
Acceptance of HSP offer
Selected candidates accept/decline the HSP offer in VUnet.
Deadline: 15 April 2017 (2 weeks after the results are published).
For More Information:
Visit the Official Webpage of the Vrije Universiteit Amsterdam Holland Scholarship Programme (HSP)