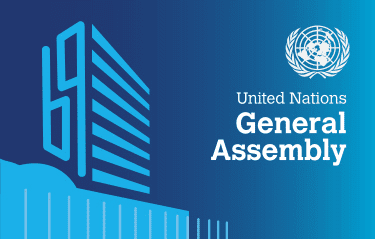 APPLICATION DEADLINE:
DEADLINES:
12 May 2015: Apply for Civil Society Selection Committee
17 May 2015: Apply for Speaking Roles
Are you or do you know a young person from a developing country with an inspiring story about climate action? If so, the United Nations wants to hear from you.
A global search is underway for a young entrepreneur from a developing country to address a special United Nations High-Level Event on Climate Change, set for 29 June, and convened by the President of the General Assembly, Sam Kutesa.

The event, which will be attended by Ministers, business leaders and representatives from civil society organizations will take place just months before countries meet in Paris in December 2015 to adopt a new universal agreement on climate change.
Eligibility:
Before submitting a nomination, please confirm that the candidate:
is a representative of a civil society organization, and officially authorized by their organization/network to speak on the organization/network's behalf;
•     can address the relevant topics and guiding questions in the event concept note (link above);
•     would be a compelling public speaker;
•     is available to be in New York on 28-29 June 2015 and for travel if necessary;
•     has a visa for travel to New York, or is able to obtain one within 2 weeks for travel to New York.
Please check with the US Embassy or Consulate in the candidate's country or place of residence. The Office of the President of the General Assembly will provide an invitation letter to the selected candidate to support a visa application.
The participant will be responsible for obtaining the visa for travel.
What:
The search for a dynamic young speaker to address the opening ceremony is being conducted by the UN Non-Governmental Liaison Service (UN-NGLS).
In addition, UN-NGLS asks for candidates to participate in two other panels during the day of the meeting.
UN-NGLS is asking candidates who are representatives of civil society organizations to share their story of successful local climate action to help shift the world to a sustainable path, enabling economic opportunity, equality, and a healthy environment for all. Civil society representatives may also apply to serve on the Selection Committee for this event.
Where/When:
The event will be the highpoint of a week of climate change activities at UN Headquarters in New York, which kick off on 23 June with a meeting of business leaders organized by UN Global Compact.
This will be followed on 26 June by a two-day meeting of Ministers from the least developed countries (LDCs).
The events will culminate in a concert by leading World Music stars and the New York Symphony Orchestra on 30 June.
The events will all take place under the banner of the UN campaign "2015: Time for Global Action."
MPORTANT NOTES:
– A nominee will only be represented once in the responses spreadsheet. If a candidate is nominated more than once, the first nomination will be retained and all others removed. Candidates will be reviewed on how well they meet the criteria, not on how many people nominate them.
– If you submit a nominee that does not meet all of the criteria, the nominee will be automatically disqualified, and the text for the entry in the responses spreadsheet will be changed to light grey.
Submit applications to speak here: http://bit.ly/PGA-29June-climate-speaker-apply
To apply for the civil society Selection Committee, visit: http://bit.ly/29June-PGA-Climate-Change-SC-Apply
For More Information:
Visit the Official Webpage of the search for young entrepreneur to address UN General Assembly session on climate change