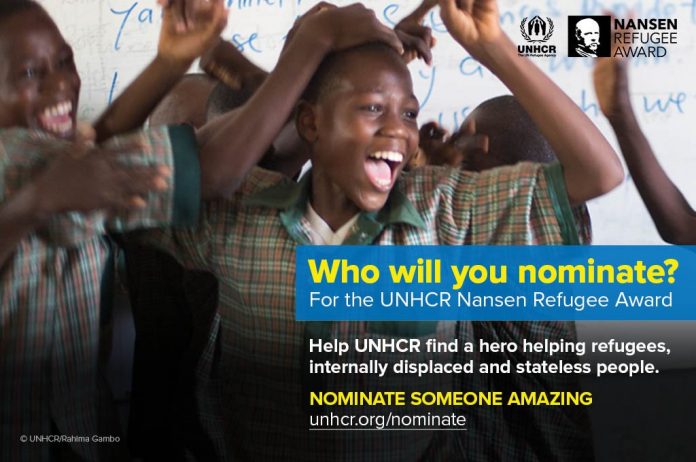 Application Deadline: Thursday, 8 February 2018.
Do you know a hero making a difference to the lives of families forced to flee their homes? Who deserves recognition for selflessly devoting their time to the displacement cause?
UNHCR are searching for the 2018 winner of the Nansen Refugee Award, as well as five runners-up.
Requirements:

Any individual, group of people, or organization that has displayed extraordinary humanitarian work on behalf of refugees, displaced, or stateless peoples is eligible to be nominated. Former and current NRC staff or UNHCR staff, including United Nations Volunteers (UNVs) working for UNHCR offices, are ineligible.
Self-nominations are strongly discouraged. The following are considered self-nominations:
Individuals or organizations nominating themselves.
Selection Criteria:
Nominees are considered by the Nansen Refugee Award Committee in the following light:
The deed for which the person/ entity is nominated should take place outside the framework of normal professional duties and go beyond the call of duty;
It should demonstrate courage;
It should raise awareness for displaced people; and
It should reflect the values of UNHCR.
Nomination submission and deadline
Fill out the form by midnight CET Thurday 8 February 2018. The strongest nominations will have detailed accounts of the candidate's work and strong references to back up the submission. For any questions, please contact the Nansen Refugee Award Secretariat at [email protected]
For More Information:
Visit the Official Webpage of the UNHCR Nansen Refugee Award 2018