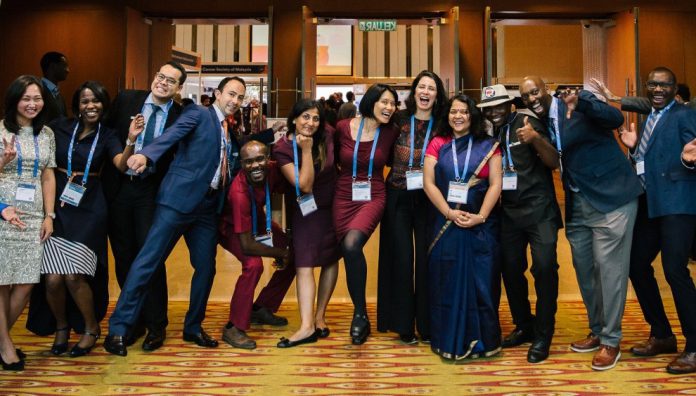 Application Deadline: Sunday 16th June 2019.
The Union for International Cancer Control (UICC) Young Leaders Programme identifies and supports aspiring young professionals in cancer control by providing unique opportunities for peer-to-peer learning, for connecting and networking with experienced leaders, as well as the chance to engage and participate in recognised international and regional events.
Seven individuals will be selected this year and the programme will commence at the 2019 World Cancer Leaders' Summit in Kazakhstan and conclude at the 2020 World Cancer Congress (link is external) in Oman.
The programme gives successful applicants the chance to;

Attend the World Cancer Leaders' Summit (WCLS) where Young Leaders will have the opportunity to contribute and learn from global discussions on current topics in cancer control, and network with influential and experienced leaders from around the world.
Participate in an event or organise a study visit aligned with their interests and expertise during the 12 months following the WCLS, to create regional impact or initiate a regional collaboration.
Attend the World Cancer Congress (WCC) to benefit from the breadth of discussions and learning opportunities available, and to share experiences and best practices through a dedicated session.
Join the UICC Young Leaders Alumni community at the end of the programme and become part of a proactive and prestigious network who support and actively engage with UICC.
UICC welcome applications from individuals who fit the following criteria; 
Up to and including 40 years of age at the application deadline (16 June 2019)
Emerging cancer control professional with demonstrated impact in their network/organisation
Fluent in English (both spoken and written) for successful interaction at an international level
Self-starter with proven experience in community engagement and mobilisation in their local setting
Benefits to Young Leaders
Recognition and visibility: Young Leaders' are featured on the UICC website as well as at all relevant events.
Access: Young Leaders' enjoy exclusive access to events such as the World Cancer Leaders' Summit which is a high-level, invite only event. They are eligible to attend UICC events such as the World Cancer Congress at discounted rates and have the opportunity to attend relevant regional meetings as a UICC ambassador/representative. Young Leaders' also gain access to UICC resources such as online training opportunities and fellowship grants.
Engagement: Young Leaders' always have a point of contact at the UICC secretariat in Geneva. They are offered the opportunity to join UICC Congress committees (for e.g. Abstract or Programme Committee) and relevant task forces depending on their expertise and interests.
Community: Following completion of the programme, they join the existing group of alumni Young Leaders, a proactive community of cancer control professionals who engage with and support UICC's work.
Expectations from Young Leaders
Young Leaders are expected to:
adhere to the code of conduct set before the programme
actively support other UICC Young Leaders'
act as a UICC ambassador
support UICC and provide guidance on specific areas of expertise, when relevant
engage in UICC's flagship events such as World Cancer Day
Programme cycle
Each programme cycle lasts 12 months and selection occurs every other year. The Young Leaders Programme commences at the World Cancer Leaders' Summit (WCLS) the same year as the application and selection process. Young Leaders are accompanied by a group of past programme participants who act as 'guides' helping them get familiarised with the event and to make connections with relevant contacts. The WCLS provides an invaluable opportunity for learning and networking with influential international experts.
In the 12 months following the WCLS, Young Leaders must identify and attend a relevant cancer event, or organise a learning visit which aligns with their interests and expertise and leads to regional impact, or aims to initiate a regional collaboration.
The programme formally concludes at the World Cancer Congress (WCC) the following year, where Young Leaders attend and share best practices and lessons learnt through a dedicated session. The WCC is the ideal platform for further networking and international engagement.
Application process and selection committee
Applications are processed via a grant management system and include submission of an application form, a CV, and two professional reference letters. The selection of Young Leaders is conducted on the basis of merit to ensure that principles of equal opportunity are respected, while aiming to achieve gender and geographic balance.
Applications are reviewed by a panel of international experts composed of UICC Board members.
Should you have any queries, please contact [email protected].
The UICC Young Leaders Programme is supported by Roche
For More Information:
Visit the Official Webpage of the UICC Young Leaders Programme