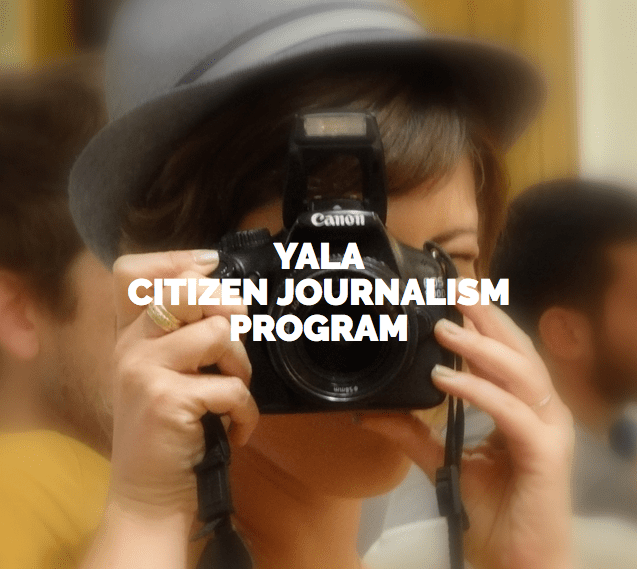 Application Deadline: January 1st, 2017
YaLa Academy's Aileen Getty School of Citizen Journalism is the only academy in the world exclusively bringing together young Israelis and young Arabs from the surrounding region: a pioneering effort in online education for a Middle East of equality, peace and progress.
The YaLa Academy's Aileen Getty School of Citizen Journalism invites you to undergo a 4-month online training program (starting in March 2017) featuring journalists and new media experts from the New York Times, the Associated Press, Facebook & more! The program will be held in English and participants must come from, or live in, Israel, Palestine or another country in the Middle East or Africa, and be between the ages of 17 and 36. The program is free and takes place online.
The Aileen Getty School of Citizen Journalism trains 400 youth (aged 17-36) per year through a one-of-a-kind interactive online classroom incorporating video lectures from top journalists, new media experts and regional bloggers, live online discussions and peer-to-peer learning on assignments. Key to the success of the program – from its 80% retention rate, to its high level of positive participant feedback and extremely active alumni – is the 1-1 mentoring of each student by YaLa staff, who are experienced young Israelis, Palestinians and internationals.
The unique blog, photo and video pieces created by the School's students are published and widely disseminated on new media platforms including YaLa Press and the Huffington Post, thereby bringing a more nuanced view of the region to the world while promoting YaLa's core values of equality, dialogue, understanding and peace.
YaLa Academy is the flagship program of the YaLa Young Leaders Facebook-based movement of nearly 1 million young people from Israel, Palestine, Algeria, Egypt, Iraq, Jordan, Kuwait, Lebanon, Libya, Morocco, Saudi Arabia, Sudan, Syria, Tunisia, Yemen & all across the Middle East. YaLa was co-founded in 2011 by the Peres Center for Peace and YaLa Palestine.

Structure:
The School recruited journalism and new media experts to train and engage young leaders (aged 1736) from across the Middle East and Africa in the following topics:
1. 'Journalism 101' – writing, editing, interviewing, and ethical journalism;
2. Photojournalism – photography and photo-editing to tell a story through images;
3. Video Journalism – shooting, editing and presenting video-based stories;
4. New Media – leveraging the power of social media (Twitter, Facebook, Instagram, blogs, etc.) to spread citizen journalism blogs, articles, videos and photography.
Each year, the School has two four-month semesters, bringing together 400 students per year from Israel, Palestine, Algeria, Egypt, Iraq, Jordan, Libya, Morocco, Sudan, Syria, Tunisia, Yemen and all across the Middle East and Africa. The Spring semester is held from March until June and the Fall semester is held from September to December. Through a combination of interactive online platforms, students learn, dialogue, watch video lectures, access resources, and connect with School staff and lecturers.
The School's head office is located in Tel Aviv, where the School's curriculum, students and activities are managed by a staff of 6 coordinators and mentors.
During the 4-month program, you will be asked to take part in online chat sessions about the video lectures (every other week), to participate in a private Facebook working group where the 4 mandatory assignments are posted and reviewed, and to regularly check your emails. You will be in touch with a Coordinator who will help you work on your assignments and go through the training. Throughout the program, you will learn how to create written and audio-visual content about the issues important to you – such as gender, identity, culture, social justice, coexistence, etc.
Apply Now for the YaLa Citizen Journalism Spring 2017
For More Information:
Visit the Official Webpage of the YaLa Academy's Aileen Getty School of Citizen Journalism 2017