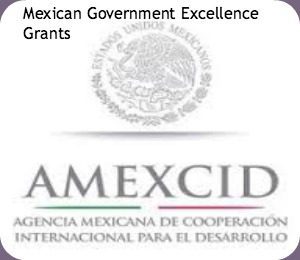 Application Deadline: August 29, 2014.
The Directorate General of Cultural Affairs through the Directorate for Academic Exchange, designs and administers the Scholarship Program for Foreigners of the Ministry of Foreign Affairs. Grants from the Government of Mexico consider two forms: scholarships for academic studies and scholarships for special programs.
Scholarships are offered for academic studies to complete a specialty, master's, doctorate and conduct research at the graduate level programs. The offer also includes academic mobility in the undergraduate and graduate levels. Meanwhile, grants for special programs are for short-stay visitors aimed at teachers, researchers on issues of Mexico, media partners and stays artistic creation, among others.
Grants are given for the following programs:
Visiting Professors

Grants for specialists and/or professors to give special lectures, courses, workshops, seminars, etc. in Mexican universities or research centers for a minimum of four hours a week.

High-level Conferences

Grants for international experts to give high-level conferences in Mexican academic, research, social and cultural institutions, etc.Candidate Profile

Must be an expert in the topic of the high-level conference

Must have a PhD or an established record in the field

Genaro Estrada Scholarship for Specialists in Mexican Studies

Research grants for international specialists in Mexican studies

Candidate Profile

Must be a published expert on a topic related to Mexico with an established career.
This program is not open to candidates who are beginning their studies or research.

Artist Residencies

Grants to create an artistic work in Mexico under the guidance of an expert in the field, either national or foreign, in residence in Mexico.

Media Residencies

This program is for international media professionals (print or electronic) who are interested in writing articles and reports and conducting interviews in Mexico.

Improving the Quality of Mexican Secondary and Higher Education Institutions

Grants for education specialists and international education administrators to give conferences, courses and workshops and to exchange experiences and best practices with Mexican administrators and others that contribute to improving the quality,internationalization and

administration of Mexican public higher education institutions.
General Conditions:

Only citizens of the countries included in this scholarship program are eligible.
All documents and forms must be presented in Spanish or submitted with translations into Spanish.
Applications must be submitted at least one month prior to the beginning of the activity for which the grant is sought.
All scholarship applications must be submitted to the Mexican or concurrent embassy of the applicant's country or to the Mexican host institute.
Applications will not be accepted directly from the applicants.
Applications sent by fax or email will not be accepted.
The Academic Exchange Office will arrange for and purchase the international airfare. If the applicant or the host institution purchases the ticket directly, they will not be reimbursed.
If the applicant cancels his/her trip after the Foreign Ministry has purchased the plane ticket,
he/she or the institution that nominated the applicant will be asked to reimburse the Foreign Ministry
Only applications accompanied by all of the required documentation will be accepted. Original documents will not be accepted ( only the medical certificate should be the original copy).
The files of any unsuccessful applicants will not be returned.
For More Information:
Visit the Official Webpage of the 2014 Mexican Government Excellence Scholarship Program for Foreign Students