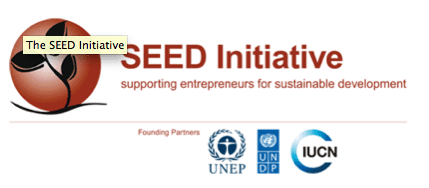 Application Deadline: April 8 2014
The SEED Awards for Entrepreneurs in Sustainable Development is an annual awards scheme designed to find the most promising, innovative and locally led start-up social and environmental entrepreneurs in countries with developing and emerging economies.
Eligibility Criteria:
SEED welcomes innovative ideas from any enterprise in a developing country or country in transition, which is working in partnership with others to generate economic, environmental and social benefits.
Demonstrate Entrepreneurship and Innovation
Deliver Economic, Social and Environmental Benefits
Intention and potential to become financially sustainable
A partnership between different stakeholder groups
Locally Driven or Locally Led
Potential for Scale Up or Significant replication
In the early stages of implementation
In a country with a developing or emerging economy
In 2014 up to 55 SEED Awards are made available:
30 SEED Africa Awards for enterprises in Ethiopia, Malawi, Morocco, Mozambique, Namibia, Tanzania and Uganda;
12 SEED South Africa Awards for enterprises in South Africa, four of which to enterprises in the provinces of Free State, Limpopo and KwaZulu Natal;
10 SEED Low Carbon Awards for enterprises in Colombia, India, Tanzania, Uganda and Viet Nam;
3 SEED Gender Equality Awards, for enterprises in other countries (except countries that are OECD or EU members).
Apply Now for the 2014 SEED Entrepreneurship Awards

For More Information:
Visit the Official Webpage of the SEED Awards for Entrepreneurs in Sustainable Development