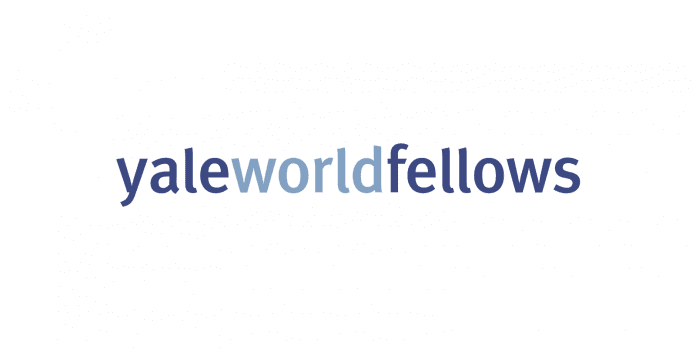 Deadline: December 4 2013
Yale World Fellows brings rising stars from across disciplines and borders for an intense and unpredictable mash-up of ideas, world views and experiences. Applications to the Yale World Fellows Program are accepted from across sectors and around the world.  Each class of Fellows is a unique group, geographically balanced, and representative of a wide range of professions, talents, and perspectives.
Each year, the four month, on-campus residency program exposes 16 emerging global leaders to new ideas and ways of doing and thinking. They're given access to all that Yale has to offer: courses, research, institutions, professors. Fellows are given time and freedom to let their minds explore. Bankers deconstruct modern art, engineers read the classics, activists demystify markets, diplomats test game theory. Brilliant minds are refreshed, challenged and expanded.
Ideal Candidates:

Fellows are mid-career thinkers and doers on a clear trajectory of success. They're dynamic, creative practitioners who have already been recognized for their work and would benefit from time at Yale to explore critical global issues and cross-disciplinary studies, sharpen leadership skills and build relationships with other emerging leaders.
TO BE ELIGIBLE, APPLICANTS MUST:
BE IN THE MID-CAREER STAGE Fellows are at least five, and typically not more than twenty, years into their careers, with demonstrated work accomplishments, and a clear indication of future contributions and excellence.  The average age of a World Fellow is 39, though there is no minimum or maximum age limit.
BE FLUENT IN ENGLISH An excellent command of the English language is essential.
BE A CITIZEN OF A COUNTRY OTHER THAN THE UNITED STATES  While dual citizens are eligible, preference is given to candidates whose work is focused outside the US.
SELECTION CRITERIA INCLUDE:
An established record of extraordinary achievement and integrity;
Commitment to engagement in crucial issues and to making a difference at the national or international level;
Promise of a future career of leadership and notable impact;
Special capacity for critical, creative, entrepreneurial, and strategic thinking;
Likelihood to benefit from participation in the Program and to contribute to global understanding at Yale;
Commitment to a rigorous program of activities, to full-time residence at Yale for the entire duration of the program, and to mentoring students and speaking frequently on campus
Notification:
Final decisions will be announced in April 2014. All applicants, both successful and unsuccessful, will be notified of their status at that time.
Apply Now for the  Yale World Fellows Program
Nominate a Candidate for the Yale World Fellows Programme 2014
For More Information:
Visit the Official Webpage of the Yale World Fellows Programme
Email: [email protected].