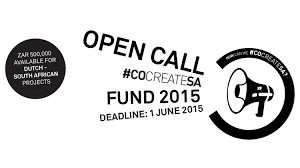 Application Deadline: Monday, 1 June 2015 at 09:00 GMT+2.
The Kingdom of the Netherlands proudly announces the launch of the new #cocreateSA Fund 2015. Through the fund an investment of R500,000 will be made in long-term South African-Dutch partnerships that co-create solutions for local challenges.
With this investment the Netherlands continues its #cocreateSA Fund, which was launched in 2014 as a legacy of the Dutch involvement in World Design Capital Cape Town 2014. Last year, nine projects addressing sustainability issues have been awarded over R500,000 as part of the 2014 #cocreateSA Fund.
Project requirements

The project must:
–        be built on the principles of #cocreateSA: demand driven, sustainable, long-term and collaborative;
–        contribute to the strengthening of the cooperation between the South Africa and the Netherlands and kick-start a
long-term partnership between our both countries;
–        contribute to the improvement of the local business climate;
–        focus on finding sustainable solutions for a relevant bottleneck or opportunity;
–        be in one of the following sectors: agro & food; energy; life sciences & health; logistics; water (more info on the
Dutch key sectors);
–        have an innovative approach;
–        be implemented in South Africa.
Applicant requirements
The applicant must:
–        be a South African organisation;
–        have a Dutch partner.
Funding requirements
–        the minimum contribution is ZAR 25,000 and the maximum contribution is ZAR 100,000 (excluding VAT);
–        the #cocreateSA contribution may not exceed 50% of the total cost of the project.
How to apply?
The following documents should be submitted to [email protected]:
–        a fully completed application form
–        a detailed budget
Selection:
Recipients of the #cocreateSA Fund will be announced during an event on 25 June 2015.
For More Information:
Visit the Official Webpage of the cocreateSA Fund Webpage