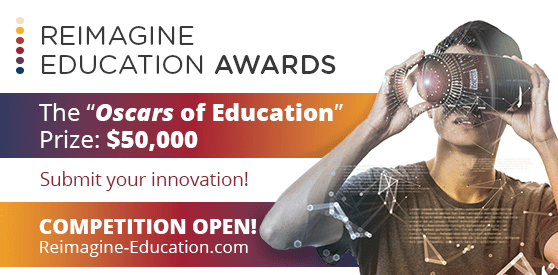 Application Deadline: September 1st 2019
Reimagine Education is a global competition rewarding innovative approaches aimed at enhancing student learning outcomes and employability, offering $50,000 in funding to the overall winner/s and 16 'Oscars' of Education. It culminates in an international conference for all those seeking to shape the future of education.
The Awards
US$50,000 in funding will be awarded to the Reimagine Education Overall Winners;
Category Winners and Overall Winners will be announced at the Reimagine Education Awards Ceremony (London, 1-3 December 2019)
GLOBAL EDUCATION AWARD
The Reimagine Education Global Education Award Winner will receive US$ 25,000 in funding.
GLOBAL EDTECH AWARD
The Reimagine Education Global EdTech Winner will receive US$25,000 in Amazon Web Services Credits.
The next Reimagine Education Conference and Award Ceremony will take place in London, on 1-3 December 2019.
The first day will showcase over 150 shortlisted entrants: the strongest applications to the competition, selected by an international panel of approximately 200 judges and rigorous internal moderation. These short showcase sessions will be interspersed with keynotes, panels, and interactive sessions, led by carefully-selected educational experts but offering consistent opportunities for audience contributions. The day will conclude with networking drinks, designed to enable propitious connections and collaborations between our international delegates.
The second day will feature interactive panels, workshops, one-to-one meetings with investors and consultants, keynote speeches from experts at the intersections of education and technology, and the Awards Ceremony, celebrating the most innovative, effective, unique, and scalable submissions to our global competition. The Awards Ceremony will take place during the Gala Dinner, which serves as the culmination of the event, and a celebration of the work that all of our delegates are doing to improve teaching delivery, learning outcomes, and student employability.
At Reimagine Education you will meet educators and teachers, academic faculty and leadership, including chief learning officers and chief information officers, ed tech founders and investors, leading employers, and journalists.
The Reimaginers' community continues to grow! Join us and meet passionate innovators with whom you can form transformative collaborations, partnerships, and friendships.
Timeline:
CALL FOR APPLICATIONS OPENS
CALL FOR APPLICATIONS CLOSES
SHORTLISTED APPLICANTS NOTIFIED
21th SEPTEMBER 2019
AWARD CEREMONY & GALA
1st-3rd DECEMBER 2019
For More Information:
Visit the Official Webpage of the 2019 Reimagine Education Conference and Awards