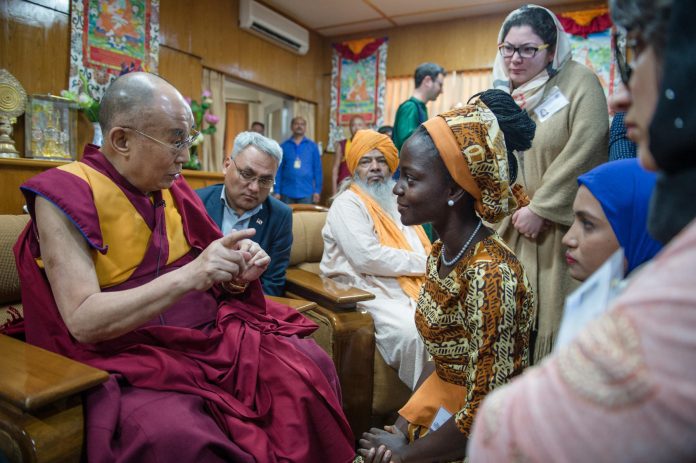 Application Deadline: March 31st 2019
The U.S. Institute of Peace and His Holiness the Dalai Lama have joined to strengthen the abilities of youth leaders to build peace in the world's most violent regions. In October 2018, USIP and the Dalai Lama hosted a third annual dialogue with youth peacebuilders drawn from countries across the globe. Many of these countries face the world's deadliest wars, as well as campaigns by extremist groups to incite youth to violence. These leaders are among their countries' most effective peacebuilders. The dialogue with the Dalai Lama helped them to build the personal resilience they need to work against the tensions or violence in their homelands.
Program Dates : October 17-27, 2019
Criteria to Apply
• Must reside and work in Afghanistan, Burma, Central African Republic, Colombia, Iraq, Libya, Nigeria, Somalia, South Sudan, Sudan, Syria (or of Syrian origin living and working in Lebanon, Turkey or Jordan), Tunisia, Venezuela or Yemen.
• Must be 18-28 years old.
• Must be able to read, write and speak English.
• Must hold a leadership role in an organization that does peacebuilding work.
• Must have a passport that is valid through April 2020.
The Problem
The world's most violent conflicts are being fought within its most youthful populations. In the five countries that suffered nearly 80 percent of recent deaths from violent extremism (Syria, Iraq, Afghanistan, Pakistan and Nigeria), half of all people are younger than 22. It is the youth of such countries that ISIS, al-Shabab and other extremist groups recruit for violence via the internet, social media and religious messengers. Breaking this pattern requires leadership from within the younger generations being targeted—a principle increasingly recognized by the international community, including the United Nations Security Council in 2015. These youth peacebuilders often face powerful forces driving conflicts in their countries toward violence, and they even may face threats of suppression or violence.

The Project
Few world leaders can understand these youth peacebuilders' experiences as fully as His Holiness, who at age 15 was thrust into the leadership of his people as they faced the traumas of war. Like some of the participants, he fled his country as a refugee and has lived for years in exile.
In Dharamsala, the youth leaders shared their experiences and ideas on improving their communities' abilities to manage conflict nonviolently, notably by drawing on human values of compassion and their communities' own resources. They held dialogues with the Dalai Lama on ways to build inner strength for their work. They also conducted exchanges with local youth and were trained in prejudice reduction, leadership, and conflict management.
In 2016, Washington Post columnist Michael Gerson called the dialogue in Dharamsala "a singular event." It expands the effectiveness of the participants as they work to transform conflicts at home into peaceful change. It provides a platform for greater international advocacy of youth priorities in peace and security. It expands the global impact of youth peace leaders and of USIP's community of Generation Change Fellows.

The Youth Peace Leaders
Participants in this program, in their 20s and early 30s, are young peacebuilders. Many have faced war or been uprooted by it. Some have lost friends or family to bloodshed; others have lived in exile as refugees.
Out of a commitment to ending or averting violence in their countries, these leaders have founded or guided projects that build bridges across social divides—whether between tribes, religious groups or genders. Their work includes mediating conflicts and training others to do so; helping refugee communities; and documenting human rights violations and war crimes.
For More Information:
Visit the Official Webpage of the 2019 USIP Youth Leaders' Exchange