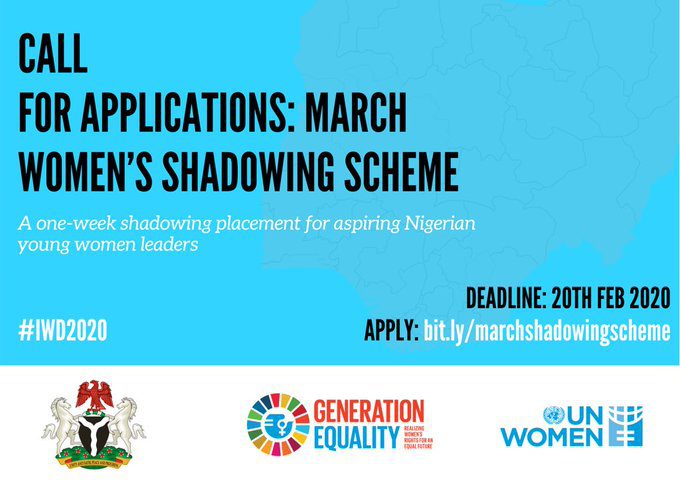 Application Deadline:20th February 2020
To commemorate International Women's Month in March 2020 and the global #GenerationEquality campaign, the Federal Ministry of Women Affairs, supported by UN Women, has launched the March Women's Shadowing Scheme for young Nigerian aspiring women leaders.
This experience-learning and networking initiative connects aspiring female leaders with trailblazing female professionals from across the world of diplomacy, development and the private sector. Convinced of the power of experiencesharing to propel professional and personal development, the Federal Ministry of Women Affairs is seeking out young female aspiring leaders with an aptitude for learning and a passion for advancing women and girls' rights in Nigeria.
Participants will benefit from a one-week shadowing experience with a designated host during the month of March 2020; gaining insight into the day-to-day responsibilities of a high-level professional.

The shadowing experience will culminate in a celebratory gala event for both hosts and participants. In addition, participants will have the opportunity to share experiences and learn from each other as part of the shadowing scheme network, with the likelihood of forging lifelong connections.
The Federal Ministry of Women Affairs is committed to ensuring equal access to rights and opportunities of women and girls in Nigeria. The 2020 cohort of the March Women's Shadowing Scheme is part of a series of inter-generational dialogue and exchanges being rolled-out in the context of the 25th anniversary of the Beijing Declaration and Platform for Action under the global #Generation Equality Campaign being spearheaded by UN Women.

Eligibility
The March Women's Shadowing Scheme is open to Nigerian women aged 18 – 29 living in Nigeria. Successful applicants must be able to commit to all aspects of the shadowing program including a one week shadowing placement. In addition to these initial criteria, successful participants must have the following characteristics:
• Demonstrable interest in any of the following areas: international development, international relations, gender equality, business investment or enterprise Demonstratable work experience is desirable.
• Awareness of the barriers to women and girls' rights in Nigeria and passion to advance the global movement toward gender equality
• Self-motivation with initiative to suggest innovative ideas and seize opportunities for professional and personal development
• Effective teamwork skills with demonstratable experience in leading initiatives
• Good verbal and written communication in English
• Excellent time management and a professional attitude
• Not undertaking a leadership, mentorship or similar programme driven by UN Women or the Federal Ministry of Women Affairs
• Not related to a member of the United Nations or Federal Ministry of Women Affairs staff

How to apply
To be considered for the 2020 March Shadowing Scheme please send the following to [email protected] by 20th February 2020 using WeTransfer (please see below for instructions on using WeTransfer):
• A curriculum vitae (CV) – maximum two pages
• A written statement (maximum 600 words) or video recording (maximum 3 minutes) outlining:
o Which sector between Diplomacy, International Development or the Private Sector, you would most like to undertake a shadowing placement in and why you see Nigerian women's representation in this sector as important;
o How participating in the Shadowing Scheme will support your professional and personal development and;
o What you will bring to the March Women's Shadowing Scheme and network
For More Information:

Visit the Official Webpage of the 2020 FMWAs/UN Women March Women's Shadowing Scheme