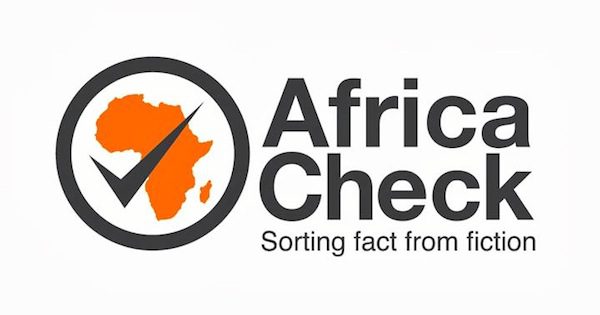 Application Deadline: 31 August 2017 midnight GMT
The African Fact-Checking Awards, now in their fourth edition, are the only awards on the continent set up specifically to honour the best, non-partisan fact-checking journalism by working and student journalists on the continent.
In their first year, 2014, the awards were won by two journalists from Ghana, and the runners-up came from Kenya and Zambia. In 2015, the winner came from Nigeria and runner-up from South Africa. In 2016, we added a category for reports published in Francophone media. The awards were won by journalists from Cameroon and Cote d'Ivoire, with runners-up from Nigeria and Swaziland.
In 2017,a student category has been added. As fact-checking continues to become an essential skill for any mainstream journalist to acquire, we hope that journalism schools around the continent will want to enter their students for these important awards.

Since launching the awards, Africa Check has run them in partnership with the African Media Initiative (AMI) with support from the AFP news agency and the Shuttleworth Foundation. This year, the awards will be held in partnership with the Global Investigative Journalism Network, at the GIJN conference in Johannesburg, South Africa in November 2017.
Requirements:
If you work for an African media house or are studying journalism at a journalism college on the continent, you can submit your report published or broadcast between 1 September 2016 and 31 August 2017 that fact-checks an important claim made in public debate or the media.
Awards for working journalists
Best fact-checking report by a journalist in Anglophone media
Best fact-checking report by a journalist in Francophone media
Awards for students
Best fact-checking report by a student journalist published in Anglophone campus media or blog
Best fact-checking report by a student journalist published in Francophone campus media or blog
Prizes:
To honour this year's awards winners and runners-up, we are offering the following prizes:
$2,000 each for the winner of the best fact-checking report by a journalist
$1,000 each for the two runners-up in Anglophone and Francophone media
$500 each for winner of the best report by a student journalist in Anglophone and Francophone media
How to enter
Entries are now open and can be submitted below until midnight GMT on 31 August 2017. For more details please contact: [email protected]
For More Information:
Visit the Official Webpage of the African Fact-Checking Awards