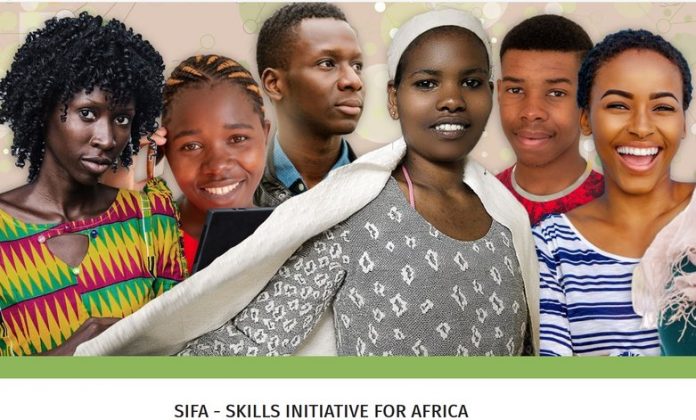 Application Deadline: 05 Aug 2019
SIFA is an initiative of the African Union Commission (AUC) supported by the German Government to strengthen occupational prospects of young people in Africa.
To begin with eight countries have been selected as pilot countries – Cameroon, Ethiopia, Ghana, Kenya, Nigeria, South Africa, Togo and Tunisia.
Selected projects can receive a grant between EUR 0.2 to 3 million for sustainable and innovative initiatives.
Result I:
Selected institutions have been capacitated to provide employment-oriented skills development.

Result II:
Access to employment-oriented skills development for young people is improved, in particular for women, students from low income groups, refugees and migrants.
Result III:
Private sector contributes to improving skills development by participating in the design and the delivery of employment-oriented skills development programmes.
Result IV:
Lessons learned and best practices are disseminated at national, regional and continental level.
Large skills development investment projects proposed by domestic training entities in partnership with companies.
Grant Amount per project
Up to EUR 3 million
Thematic Area
Large investment projects in modern work place skills development, building the capacity of public and private training institutions to deliver quality skills programs for the youth in priority growth sectors.
A combination of 5 technical and didactical interventions:
Procurement of training equipment
Construction, rehabilitation or expansion of learning infrastructure
Training of trainers*
Curriculum design*
Learner scholarships*
*The activities 3-5 can be funded only in combination with the core activities 1 and/or 2 and only up to 5 % of the total project cost.
Eligible Applicants
Lead: Domestic public or private accredited training providerPrimary partner: Domestic private sector entity
Counterpart (Applicant's own) contribution
At least 10 % of total project cost/investment
Project Implementation Period
Up to 30 months
Timeline:
Tunisia
Call is OPEN – Deadline for submission of Concept Notes: 03 June 2019
Togo
Call is OPEN – Deadline for submission of Concept Notes: 24 June 2019
Ghana
Call is OPEN – DEADLINE for submission of Concept Notes: 01 July 2019
South Africa
Call is OPEN – DEADLINE for submission of Concept Notes: 10 July 2019
Kenya
Call opens on Monday, 13 May- DEADLINE for submission of Concept Notes: 05 Aug 2019
For More Information:
Visit the Official Webpage of the AUC Skills Initiative for Africa