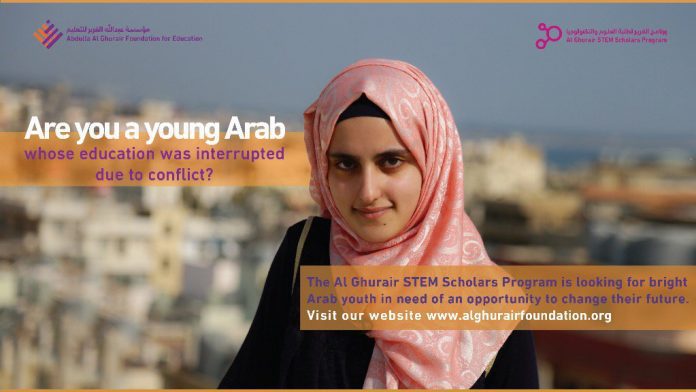 Application Deadline: January 15th 2017
Getting a top quality Bachelor's or Master's degree is not always possible for young Arabs, especially if finances are a barrier. If you are an exceptional student with a passion for Science, Technology, Engineering or Math (STEM) and you are curious, creative, and determined to pursue your dreams regardless of your circumstances, the Al Ghurair STEM Scholars Program can offer you the scholarship and support system you need to realize your goals.
Requirements:
Arab Citizen

You must hold no other passport. Preference given to residents of Arab world for at least 12 years.

15-30 years old

For undergraduate applicants, you must have graduated from high school within the last 4 years.

Academically high-achieving

You must have a cumulative GPA of no less than 85% in high school or 3.0 in university.

REQUIRE FINANCIAL SUPPORT

You must be willing and able to show proof of your financial need in your application.

Applying to a Partner University

You must be planning to apply or currently attending one of our partner universities.
Benefits:

Financial support: The scholarship includes support towards:

University tuition and other mandatory university fees
Health insurance, as per the university plan
Housing costs, travel airfare and visa costs for students living away from family
Transportation, books, and other living expenses
Non-financial support: The program also offers scholars a number of opportunities provided both through the university and/or through the Foundation. These include:

Access to a network of Al Ghurair Scholars around the world
Community service experience
Hands-on experiences
Academic advising, career counseling and mentorship
All Al Ghurair STEM Scholars are expected to fulfill certain academic and non-academic responsibilities. Once scholars are selected, they will be required to sign a student agreement with the Foundation that outlines a number of conditions. Most importantly, these include:

Academic – maintaining a semester and cumulative GPA of 3.0, taking a minimum load of credits/semester as advised by the Foundation, not failing any courses, and maintaining a high level of discipline, attendance and engagement in class
Other activities – participating in community service activities, completing an internship, taking part in mentorship programs and other leadership workshops, making use of the university career services office, and participating in extracurricular activities
Communication and reporting – regularly engaging with the university student coordinator as well as reporting and sharing information with the Foundation through the scholars' online portal
For More Information:
Visit the Official Webpage of the Al Ghurair STEM Scholars Program 2017 for Young Arab Citizens.