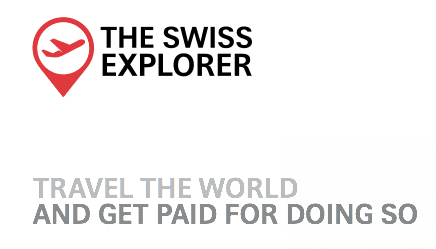 Application deadline: May 28, 2014
Starting date: Upon agreement
Employment level: 100%
Workplace: Zurich, Switzerland and around the world
Are you a modern-day Marco Polo with a talent for reporting and filming, while putting an airline's products and services to the test at the same time? If you can answer with a resounding "yes", you could be precisely the person SWISS is looking for to fill what must surely qualify as a "dream job".
Fire up your creative engines and grasp this incredible opportunity to become the SWISS Explorer.
Travel the world and get paid for doing so.
What might at first sound like something too good to be true is in fact both as real and fantastic as the Matterhorn itself
SWISS is inviting an adventurous spirit with plenty of drive to travel the globe on its behalf for 6 months and share his/her memorable experiences with a worldwide audience.
You'll visit vibrant cities and their surroundings, experience cultural and culinary highlights, try out some of the travel tips posted on our redesigned website, and add your own insights to one of the most frequently visited websites in Switzerland. Your assignment will be to document your adventures by writing blog reports, taking photographs, recording videos and sending Tweets via Twitter about the who, what, when, where and how of your roving encounters.
In a nutshell, SWISS is looking for someone with the following profile:
•Cosmopolitan personality with a strong command of written and spoken English
•Exceptional creativity, with a keen eye for graphic presentation
•A natural entertainer who enjoys creating lively, high-quality content for our new swiss.com page
•Strong photographic skills and an intermediate or higher level of ability in shooting and editing video
VIDEO PORTRAIT – WHY YOU?
Surprise and convince us with a creative video about yourself, your skills, abilities and talents. In no more than
3 minutes, explain why we should employ you as the SWISS Explorer. This video is your opportunity to win points
with the jury and the voting public on our website. The video must be no bigger than 100 MB.
TEXTS THAT CREATE WANDERLUST.
Show us that your texts have what it takes to make an exciting SWISS Explorer blog. In no more than 400 words,
tell us about your most memorable travel experience. Upload this text as a Word document or PDF.
(LETTER OF APPLICATION, CV, REFERENCES AND SALARY REQUIREMENT)
In order to complete your application, send us a letter of application with your CV, references and your desired
salary. Upload this document as a Word file, PDF or ZIP.
Put yourself in an interesting setting and take a selfie. Upload it (max. 2 MB) with your application documents
APPLICATION PROCESS
You have to go through a number of application rounds if you would like to be the SWISS Explorer. In the firststage, the jury will check and assess all of the submitted application documents. They will choose the 7 bestcandidates, who will then go on to the next round in the application.
Also in the first stage, the public will be able to vote for their favourite among the published video portraits.
The 3 candidates with the most votes will also go on to the next round of applications.
In the second stage, the 10 candidates will be invited to an application interview with SWISS in Kloten/Switzerland on 10.6.14 or 11.6.14*.
Four of the 10 candidates will be invited to SWISS for a second visit on 16.6.14.
The 3 chosen finalists will be given an exciting task to complete and the opportunity to prove their skills and abilities by flying to a destination of our choice on 21/22.6.14 and then sharing their experiences with us.
In the final stage, the tasks solved by the 3 finalists will appear on our microsite theswissexplorer.com
Ready for this exciting once-in-a-lifetime opportunity?  Apply now at www.theswissexplorer.com
.