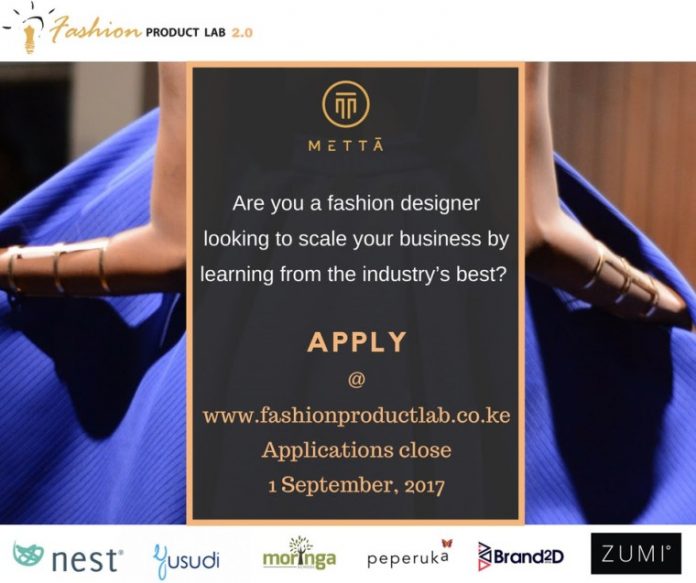 Application Deadline: September 1st 2017
Mettā, a global members' club for entrepreneurs that connects people, calls for applications to join its second cohort of Fashion Product Lab for upcoming designers.
The 10-week programme, taking place October- November and set to culminate in a runway show in December in Nairobi is the first-of-its-kind in Africa designed to support designers and give them access to work with early stage fashion-focused technology companies to launch their brands, showcase collections and scale their businesses.
The Fashion Product Lab powered by Mettā provides designers with the resources they need to transform ideas, commercialize their concepts and build successful businesses.
Benefits:
Each of the 10 selected designers will participate in:
• Mentoring and collaboration from the participating fashion sector associations with Association of Fashion Designers in Kenya, Moringa School, Zumi, Umati Capital, Uwakili, Artcaffe, Metta and Nest.VC among others.
• Connections to relevant fashion technologies, business tools and innovative solutions
• Intensive curriculum tailored to the needs of early stage fashion businesses
• Meetings with senior business executives, investors, and experienced entrepreneurs
• Insightful workshops with experts and industry thought leaders
• Pitch ideas and showcase concepts at a Demo Day, where fashion retail executives, investors, and the press will be in attendance.
Timeline:
Phase 1
August 14th – Sept 1st : Applications open
Sept 4th – Sept 22nd: Applications Closed | Selection, Pitch presentation & Selection Results
Phase 2  Product Lab
Oct 2nd – Oct 13th
Fundamentals of Fashion Design, Marketing & Communications, Fashion-tech design challenge
Oct 16th – Oct 27th
Differentiation, Sourcing & the supply chain, Distribution Models
Oct 31st –Nov 10th
Merchandising, Branding, Personal Branding, Brand storytelling Blog challenge, Pitch Training
Nov 13th – Nov 24th
Financial models, Sourcing & the supply chain production workshops
Nov 27th – Dec 1st
Pitch practice, Fashion-accessories styling challenge , Final design touch-ups
Phase 3  Showcase
Dec 8th
Pitch Day | Program Ends | Ongoing Support.
For More Information:
Visit the Official Webpage of the Mettā African fashion product lab 2.0