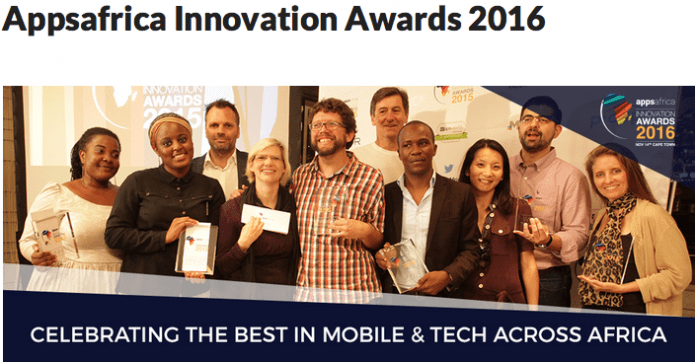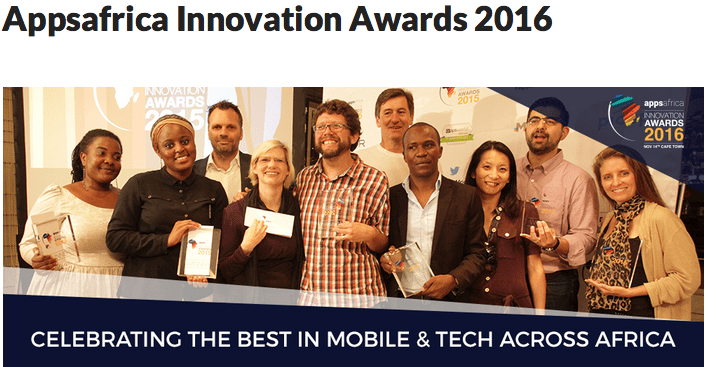 Submission Deadline:
The Appsafrica.com Innovation Awards celebrate the best in mobile and tech from across Africa. Following the success of last years Awards which celebrated 10 winners from over 200 entries across 21 countries, applications are now open for 2016.
10 Award Categories 
The Appsafrica.com awards celebrate the positive impact in 10 categories from ventures who can clearly demonstrate innovation using mobile or technology to meet the needs of any African market(s).
Applications are welcome for the following 10 award categories:

Disruptive Innovation Award
Business models are being disrupted across the continent using technology and innovation. This award seeks to recognise the disruptive innovations and new business models that are changing Africa.
Enter Now
Best Social & Messaging Award
Life is busy, and keeping in touch with others is essential, this award recognises any social or messaging services that help Africans in their daily routines, share experiences or help people network together.
Enter Now
Best African App Award
This award recognises the best applications successfully launched on any platform to target African consumers or businesses. Entries are welcome across all sectors and platforms.
Enter Now
Enterprise Solution Award
This award celebrates enterprise services across Africa. Entries welcome from innovative ventures and mobile services streamlining, improving and helping business across Africa.
Enter Now
News & Entertainment Award
Mobile news and entertainment is now a burgeoning industry across Africa. This award seeks to recognise the best news and entertainment innovations. Examples include music, literary, gaming, children's entertainment, lifestyle and video.
Enter Now.
Educational Award
Delivering education has many challenges in Africa. This award recognises services which are striving to improve education by utilising mobile or other technologies.
Enter Now
Fintech Award
This award recognises the best fintech innovation including digital currency, bitcoin, mobile money, wallets, P2P, money remittances & transfers, point of sale or funding platforms.
Enter Now
Social Impact Award
This award recognises an inspiring use of technology that has a positive social impact for an African community while contributing to economic and social development.
Enter Now
Brand On Mobile Award
This award recognises the best mobile campaigns from companies, agencies or platforms that have excelled in utilising mobile to drive awareness, interaction, impact or sales across Africa.
Enter Now
Women In Tech Award  
This award seeks to recognise the women who are driving technology and innovation in Africa. This might include entrepreneurs, developers, executives, program managers or any women making a positive impact.
Enter Now
Cape Town Awards Final
The Awards party returns to Cape Town on November 14th 2016, bringing together the mobile and tech community, enterprise, media, investors and innovators from across Africa.
For More Information:
Visit the Official Webpage of the Appsafrica.com Innovation Awards 2016