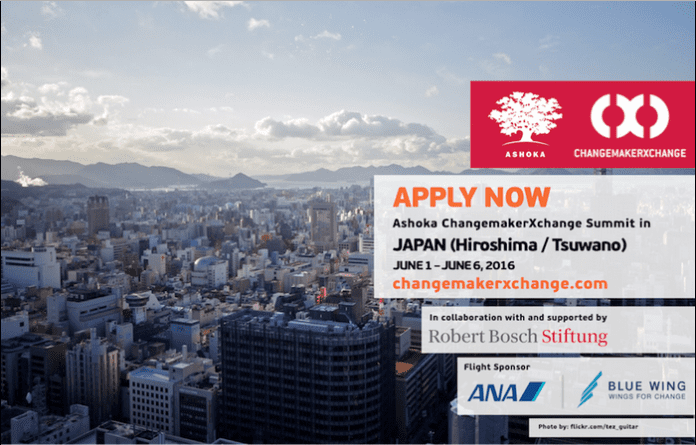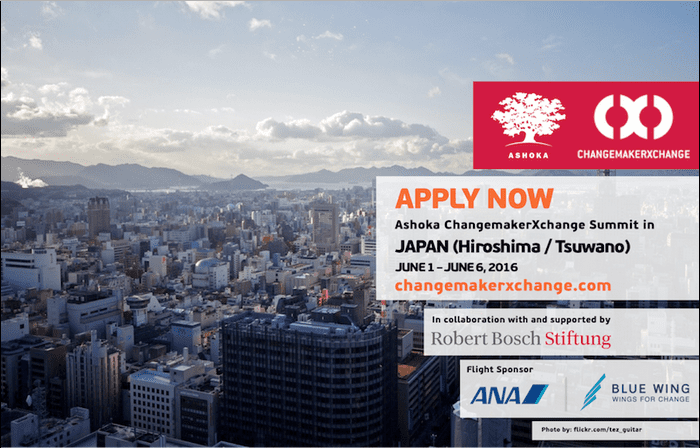 Application Deadline: March 20th 2016
Originally created in Istanbul by Ashoka and supported by the Robert Bosch Stiftung, the ChangemakerXchange is a global collaboration platform for young social entrepreneurs. It gathers some of the world's most exciting changemakers at summits around the world for the exchange and co-creation of ideas.
The ChangemakerXchange now brings together young social entrepreneurs from 40 different countries in Europe, Turkey, the Middle East, North Africa and Asia (The first summit will be in Japan in June 2016).
Ashoka will be hosting a 5 day ChangemakerXchange summit in Japan!  Split between the cities of Hiroshima and Tsuwano this is guaranteed to be a unique experience. Participants will immerse into local culture, exchange learnings and knowledge with other changemakers and develop cross-border collaborations
Eligibility Criteria:
Candidates:
** must be between 18-30 years old
** should lead, co-lead, have founded or co-founded their own social venture which is up and running and addresses a relevant social problem (an idea or volunteering for an organization is unfortunately not enough)
** have to speak English well enough to understand and make presentations in English and participate in discussions
** should have the skills and know-how to be part of a special community of collaborative young social entrepreneurs and be willing to play an active role in this community.
Logistics:
ChangemakerXchange covers nearly 100% (!) of travel costs and the majority of the conference costs for all 5 nights and 5 days (incl. hotel accomodation, inner city travel, food, entrance fees and more).
 ChangemakerXchange partner ANA Airlines and their Blue Wing program sponsors the flights for the summit, participants may be asked though to contribute the airport tax (~50-70 USD).
Apply Now for the Ashoka ChangemakerXchange Summit 2016
For More Information:
Visit the Official Webpage of the Ashoka ChangemakerXchange Summit 2016