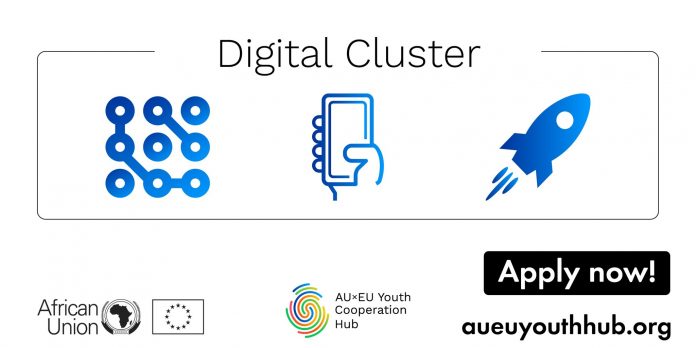 Application Deadline: March 6th 2020
The Hub is an unprecedented approach to youth inclusion in the AU-EU partnership. Based on the Youth Agenda, with concrete ideas to address challenges affecting youth on both continents, 42 Young Experts from Africa and Europe are overseeing innovative projects funded by the EU and implemented by Civil Society Organisations.
The Hub's clusters cover 6 areas with a pilot initiative for each:
1. Education & Skills
2. Peace & Security
3. Business, Jobs & Entrepreneurship (2 pilot initiatives)
4. Environment & Climate Change
5. Art, Culture & Sport
6. Governance, Citizen Engagement & Remittances.
All of the Hub Pilot projects have a strong digital dimension. Therefore, we are looking for 5 Young Experts (2 from Africa, 2 from Europe, 1 from the Diaspora, between 21 and 35 years old) to join this adventure and form the Digital Cluster. The Cluster will support the CSO in the Implementation of the Pilot projects from a technological standpoint, hand in hand with the youth of the other clusters.

The Digital Cluster will incorporate profiles such as: project managers, developers (mobile apps/online platforms), design expert (web, apps, dynamic coms).
You will be:
– Working on amazing, concrete projects.
– Joining a dynamic innovative collaboration model, with youth at the core of all decision-making;
– Helping to ensure answers to critical common European and African youth challenges;
– Gaining personal visibility with the Hub, a highly observed process (including by the EU and AU institutions);
– Developing contacts with cutting edge organisations in the digital sector and well-known private sector companies (Hub mentors, partners and stakeholders).
Once selected, what's expected of you?
– Time to volunteer during 2020 (workload mostly between April and early September) and first part of 2021. Your involvement might reach up to 4 hours a week.
– 1 to 3 field missions to visit and report on project implementation
– Virtual communications and updates to the Hub and CSO.
For More Information:

Visit the Official Webpage of the AU-EU Youth Cooperation Hub 2020 Youth Fellowship