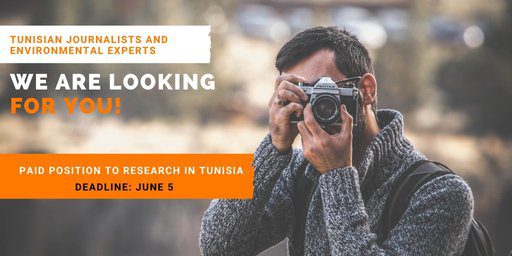 Application Deadline: June 5th 2020
Climate Tracker, in cooperation with the Office of the Hanrich Böll Foundation in Tunisia, is searching for journalists and environmental experts residing in Tunisia in order to join the organization's team and work to develop the first online educational awareness session on climate change in Tunisia.
The course aims to raise the level of climate awareness in Tunisia and provide journalists with some of the skills needed to better cover climate change issues. We also aim to give civil society activists an opportunity to learn more about climate adaptation strategy in Tunisia as well as climate change negotiations and policies in general
Requirements:

The course will be developed by the Team Tracker team in cooperation with journalists and experts in Tunisia. The journalist / journalist will work closely with Climate Tracker to collect data related to climate adaptation strategy in Tunisia, visit some projects related to climate adaptation in Tunisia, and also speak with government officials about climate policies. The experts will work with us to verify the information collected and collect reports and studies related to the subject of the training course in order to analyze it and develop the parts of the course in an attractive and innovative way.
Opportunity Details
Duration of work: Four months (June to the end of September)
Working hours: 10 – 15 hours per week (We have no problem setting your own schedule
There will be an incentive offered monthly throughout the work period
Literary rights: The names of all team members in Tunisia will be mentioned in the training course
: Submission requirements
The subscriber must be a Tunisian
The subscriber should have experience in environmental journalism or research
Method of Submission
You can apply for this opportunity through the e-mail tracker program. You must provide the following
Your CV
Examples from your previous work if you are a journalist / journalist
Examples of your research and publications (if any) if you are a researcher or expert
Explain why you are interested in participating and what benefit you will add to the team in Tunisia
You can use the Arabic, English or French language for presentations
Climate Tracker will review all submissions and communicate with the best applicants for personal interviews 
For More Information:
Visit the Official Webpage of the Climate Tracker Paid Research Position