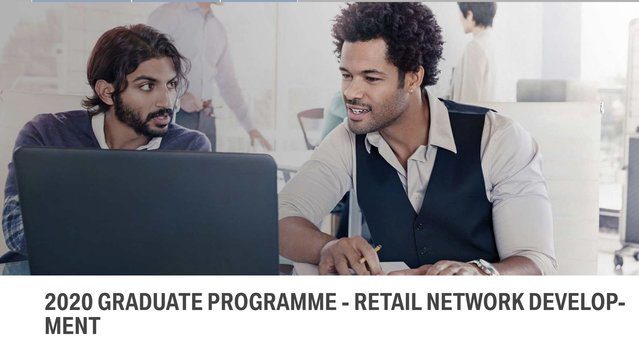 Application Deadline: Unspecified
BMW SA is committed to contribute towards your growth, development and empowerment of the youth in the country. The BMW SA graduate programme is looking for enthusiastic and talented graduates to join the group. We support our bright young talent with a collaborative, open culture where you have a voice and bring your ideas to life. The programme is aimed at graduate students who are looking for real work experience.
The programme will include rotational, on the job training, self-learning, blended learning and technical training focus. Candidates will have to go through our hiring process to be considered. Successful candidates will join the company for a 24 months programme.Qualifications and Experience
• Bachelor of Commerce – IT / Finance / Industrial engineering / MBA
• Attain a minimum of a 65% overall average
• Highly analytical and investigative/inquisitive skills.
• High research capability and computer literacy.
• Must have a high personal interest in trends, analytics and communications. 
• Planning, financial, letter writing skills and PowerPoint is an essential requirement.
• Proven track record of academic excellence.
• Be a curious and keen learner.
• Passion for BMW. 

For More Information:

Visit the Official Webpage of the BMW Group Graduate Programme- Retail Network Development 2020