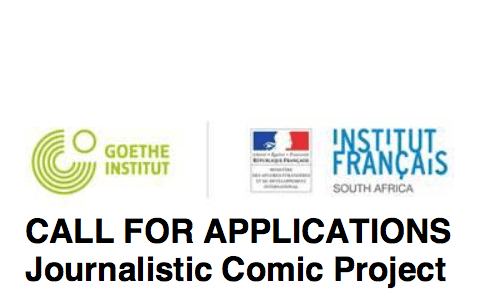 Application Deadline: April27th 2016
The French Institute of South Africa (IFAS) and the Goethe-Institut will be supporting a month-long residency for 3 comic artists (one South African, one German and one French) in Cape Town in June 2016.
During this residency, each comic artist will be assisted by a local journalist. Together, they will explore a journalistic topic dealing with migration. The comic artists who have been invited to participate in this residency project are Su Opperman (South Africa),
Kai Pfeiffer (Germany) and Hippolyte (France).
Requirements
Journalists with a minimum of two years professional experience, and who are based in Cape Town, are hereby invited to submit an expression of interest and examples of their published work, should they be interested in participating in this residency.
To qualify for this project, journalists should be no older than 35 years.
Invited journalists will be paid a fee to collaborate with one of the invited artists in researching and creating a reportage on a topic which the selected artists and journalist will agree upon.
Application:
Please forward expressions of interest (no longer than 200 words), a short CV (not longer than one page) as well as copies of at least 2 published texts to FrancoisVenter
mailto:[email protected] by no later than Wednesday, 27 April 2016.
The names of the selected journalists will be announced by 16 May, 2016.
For enquiries, please contact Mickey Makpolo at (011) 403 0458
For More Information:
Visit the Official Webpage of the Goethe-Institut Journalist Comic Project 2016