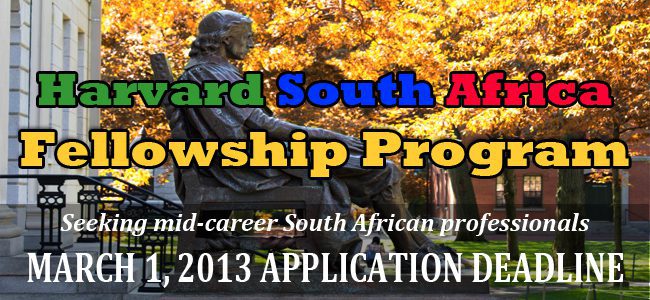 The Committee on African Studies Harvard University Invites you to apply for the SOUTH AFRICA FELLOWSHIP PROGRAM
The Harvard South Africa Fellowship Program (HSAFP) is intended for South Africans who in the past were educationally disadvantaged by law and resource allocation under apartheid. In 1979 Harvard University began awarding these fellowships for a year of study in one or more of its faculties or schools. Harvard funds these fellowships from its own resources. Over the years more than one hundred and forty fellowships have been awarded to South Africans.
Eligibility
The HSAFP was conceived largely to provide educational enrichment for men and women in mid-career, that is, individuals in various occupations who have shown considerable skill in their chosen fields and leadership and are expected to benefit from advanced training. Thus candidates who have just completed, or who have not yet completed, a first degree are not selected unless this degree has been pursued concurrently with, or subsequent to, experience in the workplace. Fellows usually range in age from 30 to 45 years.
Fellows submit their applications directly to the Harvard South Africa Fellowship Program at Harvard University.
Terms
The fellowship provides for payment of all tuition for the full period of enrollment at Harvard. The fellowship also funds the round-trip airfare between the fellow's home and Boston. A monthly stipend is provided to fellows, except those enrolled in the Executive Education Programs, to cover the cost of housing and other living expenses.
Conditions 
Candidates who are awarded fellowships must apply and receive admission to their specific Harvard program for the following year. For example, if you apply for a fellowship during the 2013 application cycle and you are selected, you must then apply for admission to your program for the following academic year of 2014-2015. If admitted to the program, your fellowship will be awarded for 2014-15.
Application Timeline 
In order to complete an application for the HSAFP you will be asked to fill out our PDF application, and submit all other documentation by email, including two letters of recommendation with the HSAFP recommendation form.
March 1, 2013: HSAFP applications Deadline
March-April 2013: Applications are reviewed by on campus committee at Harvard University
Late April 2013: Applicants notified if they have been selected as finalist
June 2013: Expected timing for finalist interviews in Johannesburg, South Africa
Late June 2013: Finalists are notified if they have been selected as a Harvard South Africa Fellow
September – December 2013: Selected Harvard South Africa Fellows apply directly to the Harvard program they are interested in attending
January – April 2014: Candidates typically hear about their admissions decision from the Harvard School they applied to
Beginning July 2014-August 2014: Harvard South Africa Fellows' academic programs at Harvard begin
May 2015: Fellows at Harvard for one-year programs complete their academic year at the University
Submit the application form.