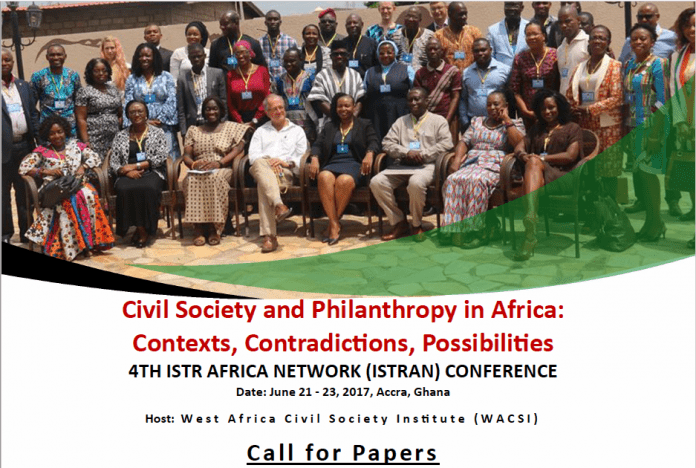 Civil Society and Philanthropy in Africa: Contexts, Contradictions, Possibilities
4TH ISTR AFRICA NETWORK (ISTRAN) CONFERENCE
Date: June 21 – 23, 2017, Accra, Ghana
Host: West Africa Civil Society Institute (WACSI)
The International Society for Third Sector Research (ISTR) is a global membership association of scholars, researchers, and practitioners with the goal of keeping them abreast of changes and participate in a dialogue with on matters related to civil society, philanthropy and the non–profit sector, otherwise known as Third Sector (after
Government and Business).
The broad aim of this conference is to kick-start the process of serious consideration of critical questions occupying the civil society-philanthropy interface such as; how can civil society organizations promote a culture of giving? Does charitable giving boost or enervate the civic impulse? How and under what conditions do agents traverse the civic and philanthropic terrains, and what forms of collaborations are possible between the two? What, in a deliberate amplification of the canvas, are the proper limits of collaboration between the state and charities, and who gets to draw them? Last but not least, how have the histories of civil society and philanthropic organizations been entangled in Africa, and what are the possibilities for the transformation of the nongovernmental space on the continent?
To this end, ISTRA invite theoretical, philosophical and empirical submissions drawing on the best investigative traditions and approaches from the entire spectrum of the social sciences, including, but not necessarily limited to, economics, history, psychology, cultural studies, philosophy, sociology, political science, and anthropology. Papers may be ethnographic, comparative, statistical, regional, national, or strictly theoretical in their approaches.
Whilst submitters are encouraged to take issue with and pursue the implications of the foregoing questions from their respective intellectual standpoints, it is also important that they see them (i.e. the questions) as mere provocations to thought, and not limits or constraints that the conference organizers seek to impose.
For More Information:
Visit the Official Webpage of the ISTR Africa Network Conference 2017