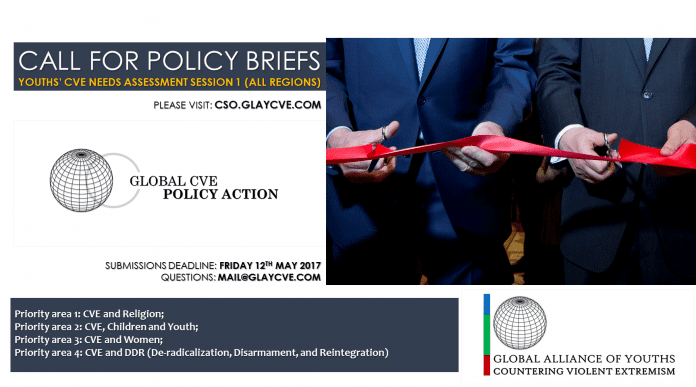 Application Deadline: May 12th 2017
.This is an open call for all interested persons of ages 35 or below, members of the alliance (join here: http://glaycve.com/index.php/membership/) to submit written policy briefs in the criteria specified below.
The needs assessment seeks to capture and promote knowledge of evidence-informed best practices to the governments, regional, sub-regional and local P/CVE stakeholders. This global exercise is with regard to the commitments made in the past of the same reference to operationalize and expand youths' personality's space for advocacy-based engagement; this, at policy creation and implementation stages. Further, the policy briefs submissions will be published online as one.
Deadline for submitting is Friday 12th May 2017 at the link http://cso.glaycve.com/

Priority areas:
CVE and Religion;
CVE, Children and Youth;
CVE and Women;
CVE and DDR (De-radicalization, Disarmament, and Reintegration)
Criteria for submission
We look forward to receiving your submissions soon; please don't hesitate to direct any and all questions to [email protected]
For More Information:
Visit the Official Webpage of the Call for Policy Briefs: Global Alliance of Youths Countering Violent Extremism