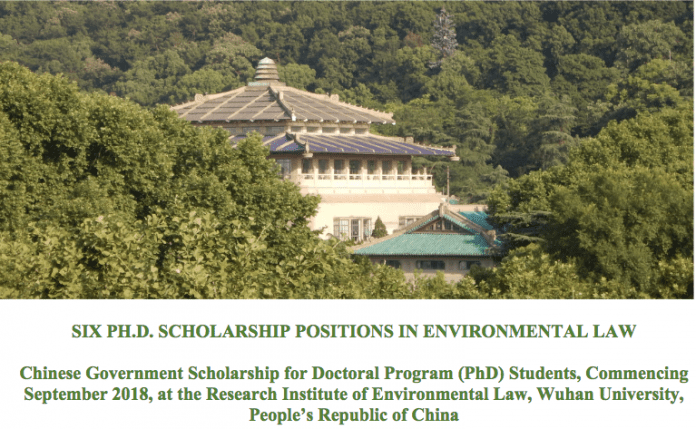 Application Deadline: 15 March 2018.
Chinese Government Scholarship for Doctoral Program (PhD) Students, Commencing September 2018, at the Research Institute of Environmental Law, Wuhan University, People's Republic of China Wuhan University is ranked in the top ten universities in China. Its Research Institute of Environmental Law (RIEL) is the foremost environmental law research institute in the country.
The university's high educational quality and beautiful campus on East Lake attract more than
2,000 international students a year to study in the university's various disciplines.
Eligibility of applicants
Applicants must:
1. Intend to take the doctoral program full time.
2. Be of non-Chinese nationality.
3. Be under 40 years of age.
4. Hold a Bachelor of Laws or JD degree, as well as a Master's degree in law (in relation to the latter requirement, equivalent experience may be demonstrated instead).
5. Produce an English-language qualification proving a high level of competence in the
language (e.g. IELTS 7.0 or TOEFL 9 5, at a minimum). This requirement is waived for
applicants educated in countries where the language of instruction is English.
Duration and program of study
The scholarship will support doctoral students for three years, and, in exceptional circumstances, for up to four years.
The doctoral program includes a compulsory taught component in the first year , including a course on legal research methodology.
Language of instruction
The language of instruction is English.
Scholarship coverage

The Chinese Government Scholarship covers
the following items:
1. Tuition fee.
2. Accommodation.
3. Living allowance of 3,500 RMB (approximately US$520) per month.
4. Medical insurance
Application pre-approval procedure
Prior to submitting any documents to the university, applicants are first to contact Professor
Alexander Zahar (contact information below) at the Research Institute of Environmental Law
to discuss their interest in the scholarship.
Applicants must receive Professor Zahar's express permission before submitting any application documents to the university under this program.
As these positions are specifically for advanced research in environmental law, persons without a law degree should not seek pre-approval
Once approval to apply has been given, Professor Zahar will give directions to applicants on how to submit their application to the university.
Applicants should be aware that if they are shortlisted they will be interviewed by a specially appointed panel of legal experts.
The DEADLINE for completed applications to be submitted to the university is 15 March 2018.
Therefore applicants must contact Professor Zahar well before this deadline

Contact information for the pre-approval procedure

Professor Alexander Zahar

Luojia Distinguished Professor,

and Assistant Director

Research Institute of Environmental Law

Wuhan University

Wuhan 430072, Hubei Province

People's Republic of China
For More Information:
Visit the Official Webpage of the Chinese Government Scholarships 2018 for Doctoral Program (PhD) Students