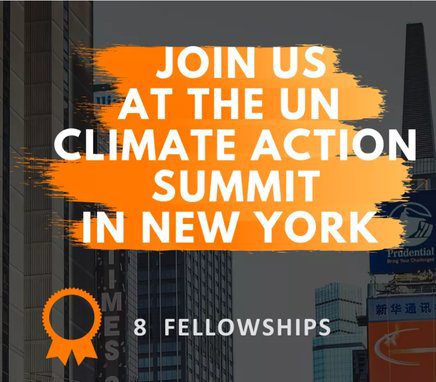 Application Deadline: August 10th 2019
Climate Tracker is looking for young journalists from around the world who want to make a big impact in their countries by publishing about a youth movement or young leader pushing for climate action in their country.
As of today, the plans presented by countries are not enough to keep global warming within the Paris Agreement's 1.5C degree limit. That is why UN Secretary-General António Guterres is calling for a special summit in New York, the Climate Action Summit, which will convene and urge global leaders to set forth concrete plans that raise ambition on climate action. Just a couple days before this, young leaders from all over will gather at the first ever Youth Climate Summit to showcase climate solutions and engage with decision-makers on the defining issue of our time.That is why we are asking you to publish a story about the young people who are making climate action a reality.
The best eight writers will get a chance to attend and cover the Global Climate Strike, the UN Youth Climate Summit, the UN Climate Action Summit, and other events happening in New York City from the 19th – 26th September 2019.

The eight fellows will also receive training on climate and journalism organized by Climate Tracker and the Stanley Foundation, participate in group interviews with high-level officials/experts, and network with amazing people from all over the world! All expenses (such as accommodations in close proximity to the UN headquarters and round-trip, economy-class airfare) will be organized and covered for the eight fellows as part of the fellowship.This has all been made possible thanks to support from the Stanley Foundation and the UNSG Climate Action team.
Requirements:
If you are thinking of doing a photo essay, make sure you profile great climate activists or marches and publish it in media.
If you are thinking of video, it could as well profile some people or reflect on the movement you are profiling. Get it published into another story or in media in your country!
Your article should be at least 500 words.
We prefer it when writers have interviewed at least two people for their article — for example, experts, community members, young people, or policymakers.
It is always best to include a picture that is original and related to the topic.
You can check our full rating system for articles here to get an idea on how we will assess it.
Selection:
The best writers will be chosen among the applicants by analysing their outreach and writing skills. You can check our rating system for articles here. We may conduct interviews if we find it necessary.
For More Information:
Visit the Official Webpage of the Climate Tracker Reporting Fellowship 2019