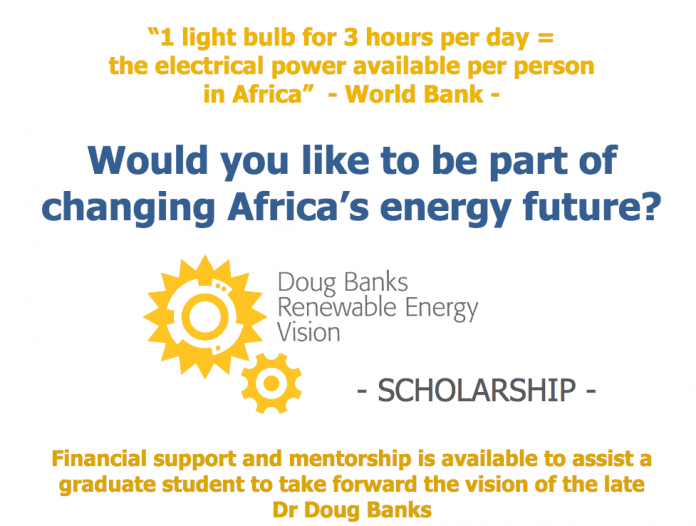 Application Deadline: September 29th 2017
Every year or two we embark on a search for bright young minds with a passion for making a difference and addressing the problem of Energy Access and Poverty in Africa.  Other aspects of Renewables or Energy in general are not our focus area.
The Doug Banks Renewable Energy Vision is a South African initiative aimed at building intellectual capital in the field of Renewable Energy.

Dr Doug Banks was a man who was passionate about meeting Africa's energy challenges through the development of Renewable Energy.
This initiative is set on finding undergraduate students, preferably from an engineering, scientific or technical background who are willing and able to carry forward Doug's passion and vision.
If you are:
• Passionate about making a difference to the African continent.
• Fired up about addressing Energy Poverty and Energy Access through application of Renewable Energy. you may be just the person we are looking for!
Benefits
A two year Scholarship is available to study towards a Masters degree in Renewable Energy Studies at a South African University, commencing in 2018. Students should be from a background of engineering,science,technology, built environment, or law.
Only South African citizens or permanent residents may apply
For More Information:
Visit the Official Webpage of the Doug Banks Renewable Energy Vision Postgraduate Scholarships 2018