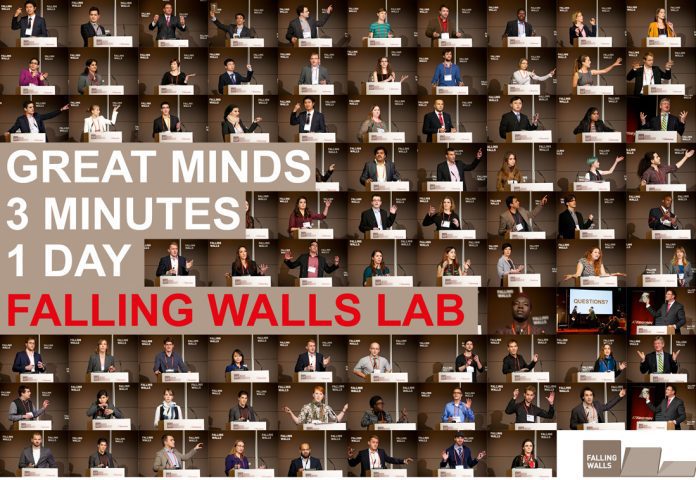 SHARE YOUR INNOVATIVE IDEA AT THE FALLING WALLS LAB, WIN A SCHOLARSHIP AND TRAVEL TO THE FINALE IN BERLIN!
Falling Walls Lab Cairo – 20th July 2016 | Deadline: June 30th 2016
Falling Walls Lab Cameroon – 25th June 2016 | June 10th 2016
Falling Walls Lab Johannesburg – 30th September 2016 | September 2nd 2016
Falling Walls Lab Tunisia – 24th June 2016 | June 10th 2016
Your Presentation
• Present your research project, business plan, entrepreneurial or social initiative that is relevant to the world of today – in 3 minutes!
• Convince a top-class jury with members from academia, research institutions and business.
• Exchange insights on an inter-disciplinary level with fellow researchers and professionals.
• Get involved in exciting discussions and network with excellent scientists and professionals
Win a Scholarship and a Trip to Berlin
A distinguished jury selects the winner who
• travels to Berlin on 8/9 November 2016
• qualifies directly for the Lab Finale in Berlin on 8 November 2016 as one of 100 international and interdisciplinary participants (travel costs and accommodation are covered)
• is awarded a ticket for the international Falling Walls Conference on 9 November 2016 where some of the world's most prominent scientists from around the world present their current breakthrough research in 15 minutes each.
WHO CAN APPLY?