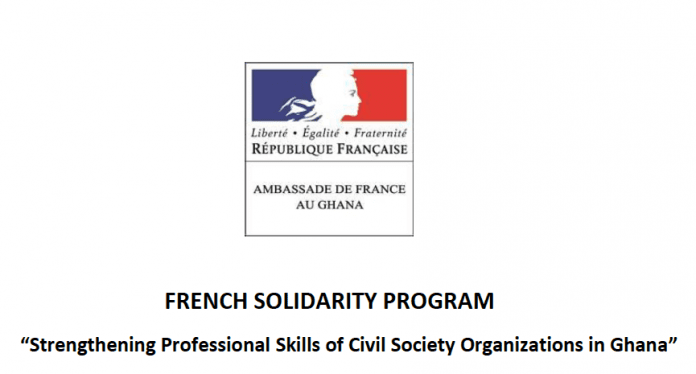 Application Deadline: June 29th, 2017 at 4pm GMT.
The Ministry of Foreign Affairs and International Development of France aims to encourage capacity building and strengthening of civil societies across the globe in order to enable better policy advocacy and increase stakeholder engagement.
The French government notes the importance of civil societies in civil participation in the democratic process and also the active participation in advocacy for transparency and accountability in the public administration. Increasingly, civil society organizations are demanding to be more actively included in policy-making processes, including those at a national, sub-regional and local level.
In this light, the French Embassy in Ghana is seeking high quality proposals that seek to advance Ghana's democratic governance and contribute to build effective, efficient and dynamic institutions as foreseen in the UN sustainable development goal N° 16 (Peace, justice, and strong institutions) by:

Promote peaceful and inclusive societies for sustainable development
Provide access to justice for all
Build effective, accountable and inclusive institutions at all levels
Requirements:
Any Civil Society Organization (CSO) legally registered to operate in Ghana can apply.
Conditions for CSOs:
a) CSOs that are legally registered and recognized in Ghana;
b) CSOs that are affiliated to known coalitions and networks;
c) CSOs with offices in the regions, and especially the districts that they plan to implement the
project will have more advantage. Or, credible national CSOs may also collaborate with local CSOs located within their preferred project districts to apply for a Project;
d) CSOs that show official involvement with at least one governmental institution (Ministries, Departments and Agencies) in relation to their proposal.
What kinds of proposals are expected?
The projects are to help increase young people and women engagement and participation in public affairs, to improve democratic governance and transparency in the country. The projects should also aim to sensitize/educate citizens to increase their knowledge on the public institutions, to develop awareness of their roles and responsibilities in national and local development and to create interest for a better understanding and potential commitment in public decision making.
Ghana, being part of the Open Government Partnership (OGP), will soon submit its 3rd National Action Plan in partnership with the civil society. Any innovative project from civil society organizations actively engaged in preparing the OGP National Action Plan, and in monitoring and supporting the government to achieve the OGP commitments will be valued.
Two (2) projects will be selected and supported. Each successful project will be supported with a grant ranging from € 15,000 to € 24,000) for a period of 12 to 15 months duration for project implementation.
The following types of action are ineligible:
• Actions concerned only or mainly with individual sponsorships for participation in workshops,
seminars, conferences and congresses;
• Actions concerned only or mainly with individual scholarships for studies or training courses;
• Actions in the formal education sector, except in special circumstances;
• Equipment costs beyond 30%;
• Actions supporting political parties;
• Actions which include proselytism;
• Actions which discriminate against individuals or groups of people on grounds of their
gender, sexual orientation, religious beliefs or lack of them, or their ethnic origin;
• Actions which are in conflict with Constitutional provisions.
Grant
Each successful project will be supported with a grant of a minimum of € 15 000 and a maximum of € 24 000.
Selected projects will receive their funding in 2 installments as follows: 80% upon signing of
contract and the remaining 20% upon justification of use of first installment.
Application Procedure:
All Applicants must drop a hard copy of their proposal at the French Embassy from Monday to
Thursday, between 8am and 4pm. Submissions must be addressed to:
Genevieve Partington
Project Coordinator – FSP Governance
Embassy of France, Accra
 An email must be sent to [email protected] with the full application attached as one PDF file. File should be named after the organization with the first page being the Grant Application Form.
Please note that the deadline for receiving applications has been set to June 29th, 2017 at 4pm GMT. Proposals must be received on, or before this date and time. All applications received afterwards will not be considered.
For More Information:
Visit the Official Webpage of the French Solidarity Programme 2017