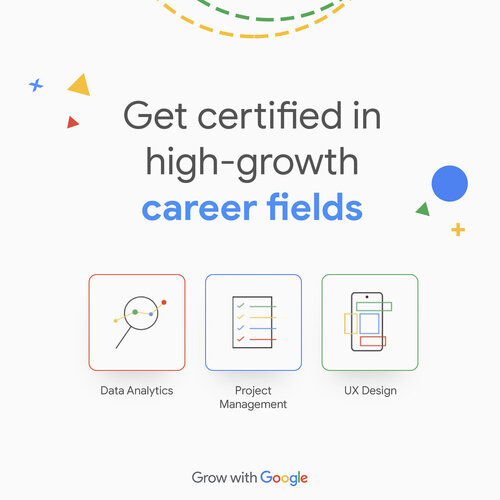 Application Deadline: Ongoing
Africa's growing technology ecosystem offers opportunities to create digital solutions that make traditional ways of working more productive, while enabling the creation of new income streams and job opportunities. However, employers across the continent state that many job seekers do not possess the requisite digital skills, limiting employability prospects and business growth. The COVID-19 pandemic has also driven home the importance of digital tools and skills. In its wake, the most successful businesses were those whose operating model and employees could easily navigate the crisis and transition to digital service delivery.
These certificates are entirely developed by Google but bring no revenue or profit for Google. They are product agnostic and are designed to help people prepare for jobs at any company or sector. We will be distributing 5,500 scholarships in Kenya, Nigeria and South Africa this year.
In November 2020, Google.org invested $750,000 in grant funding to Junior Achievement Africa and the International Youth Foundation to provide 2,500 vulnerable learners with Career Certificate scholarships along with wrap-around support at every step of the learning journey, including: career advice, interview preparation, and peer-to-peer networks.

This year, we are working with distribution partners with strong workforce development programs to reach 3,000 additional learners with scholarships.
Kenya

Nigeria
South Africa
Apply Now for the Google Career Certificate Scholarships 2021
For More Information:
Visit the Official Webpage of the Google Career Certificate Scholarships 2021