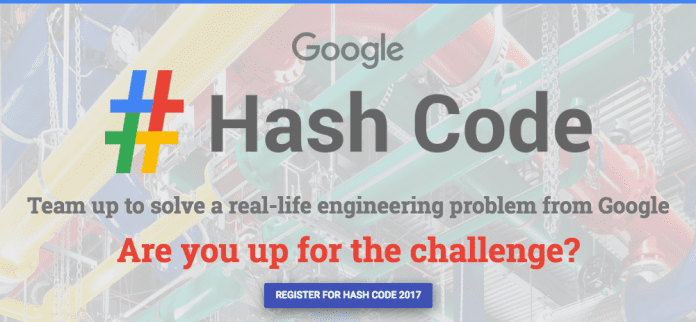 Application Deadline: Thursday, 23rd February 2017
Hash Code is a team-based programming competition organized by Google for students and industry professionals across Europe, the Middle East and Africa. You pick your team and programming language, we pick a real-life engineering problem for you to solve. Are you up for the challenge?
The competition takes place over two rounds:
Online Qualification Round.
 Your team can participate from one of our competition hubs or from wherever else you'd like.
Final Round
Top scoring teams from the Online Qualification Round will be invited to Google Paris to compete in the Final Round of the competition.
Requirements:
Hash Code is open to university students and industry professionals in Europe, the Middle East and Africa.
You must be over the legal age of your country of residence and at least over 18 years of age at the date of the Online Qualification Round.
Your team can consist of two, three or four members and team composition cannot be changed after the Online Qualification Round has begun.
Some participants may leave your team, but a team which has only one remaining participant is automatically disqualified.



Prizes

For the Final Round, Google will award cool Google prizes to the three teams with the highest scores.

Every participant will also get a certificate of qualification to the Final Round and a gift bag.
Travel
Participants will be responsible for arranging their own travel and accommodation. Participants will be able to apply for a travel grant from Google (between 100 and 500 EUR) in order to help offset these costs.
If selected, participants will receive the grant after the Final Round takes place.
For More Information:
Visit the Official Webpage of the Google Hash Code 2017 – Team-based Programming Competition