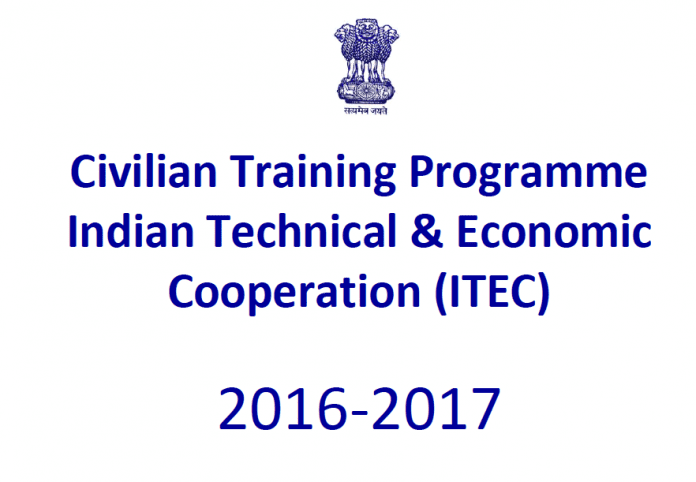 The ITEC Programme is fully sponsored by the Government of India and has been running successfully for over 50 years. It is designed to build the capacity of professionals through a series of unique training courses.
The Government of India has allocated 30 places for participants from Commonwealth member countries for the 2016-2017 Programme.
There are 47 premier institutions conducting 280 short-term, medium-term and long-term courses across seven broad categories:
Accounts, Audit, Banking and Finance
IT, Telecommunications and English
Management
SME and Rural Development
Specialised courses
Technical courses
Environment and Renewable Energy
Requirements:

To be eligible, you should be a member of/employee/official in: government, semi-government, public/private sector, university/school, chamber of commerce and industry, or a non-governmental organisation.
Please note that individual deadlines and eligibility criteria apply to each course on the Programme. As there is limited availability applications should be submitted as early as possible in order to avoid disappointment, leaving a minimum of three months prior to the start date of your chosen training course.
Benefits:
* Participants will be provided with the following allowances and facilities:
Excursion/ economy class air tickets for travel from the capital city of the participant's country to the training Institute in India and back;
Gratis Indian Visa for the duration of the Course;
Course fees – borne by Government of India;
Accommodation provided by Government of India in hostel/hotel, depending on the Institute.
Participants are required to pay for services availed by them such as (a) Room Service, (b) Laundry, (c) Local and outstation telephone calls, fax, etc.;
Living Allowance @ Rs. 25,000/ – per month and on pro-rate basis for part thereof to meet expenditure on food, out-of-pocket expenses, etc. The allowance is calculated from the date of arrival till the date of departure;
Disbursement of the Living Allowance will be made by the Institute on a weekly/fortnightly basis (as decided by the Institute); the participants are supposed to pay for their meal out of this allowance.
In case the Institute makes arrangement for the food, a portion of the allowance will be deducted by the Institute in advance and the rest will be paid to the participants. Participants may wish to bring some extra money for shopping and other dietary needs;
Book allowance of Rs. 5000/- for purchase of Course-related books and purchase receipts need to be submitted for reimbursement;
Study Tour(s) as part of the Course Curriculum to familiarize with Indian culture and history (which is mandatory);
Medical facility is for ailments of immediate and emergency nature occurring in India. No medical reimbursement allowed for ailments of chronic nature. Participants must carry their own medicine for regular and chronic ailments like diabetes, hypertension etc. For regular/chronic ailments, all consultation charges of doctor, medicines etc. would be borne by participants.
If any special assistance is required by a participant during his/her stay in India, that should be intimated to Mission as well as to the concerned Institute prior to departure for India. It is advised that participants check with the Institute about the availability of facility required by him/ her.
For More Information:
Visit the Official Webpage of the Indian Technical and Economic (ITEC) Programme 2016/2017